The best places to stay in Luang Prabang explores and answers several questions on the best cheap hotels in Luang Prabang, which hotels are good for families, and lastly, what are the best luxury resorts in Luang Prabang.
Where is Luang Prabang?
Luang Prabang is a town located about 186 miles north of Vientiane, the capital city of Laos. This town is listed in the UNESCO World Heritage Site for architectural, religious, and cultural heritage. There are four roads in this town. The town is at the confluence of the Mekong and Nam Khan Rivers.
CNN Travel describes Luang Prabang as a town that offers a mix of French colonial backgrounds against traditional monks in saffron robes. In this town, you can find caves, waterfalls and many riverside villages.
Luang Prabang has two climates, the monsoon season and the dry season. The dry months are January to May. The wettest month is in August.
How do I Get to Luang Prabang?
There are many modes of transportation to get into Luang Prabang. The four modes are:-
Air
Luang Prabang International Airport is the second busiest airport in the country and links to local cities such as Vientiane and Phongsali. International airlines from Vietnam, Singapore, Malaysia, and China ply this airport.
Road
Route 13 serves Luang Prabang and connects it to Vang Vient and Vientiane in the South and Boten in the North. Although the road is paved, the condition is poor in some areas.
A new road now connects Kasi to Luang Prabang which has now shortened the 5-hour journey into a 3-hour journey. There are several buses that ply the Vientiane Luang Prabang route daily. A bus journey usually takes about 13 hours. Sleeper buses are available from Hanoi to either Luang Prabang or Vang Vieng.
Waterway
Luang Prabang is one of the few cities which use the river to connect to other parts of the country. A barge can be hired to cross to Thailand or to take a 2-day journey to Vientiane.
Rail
This is the newest mode of transportation to get to Luang Prabang. Xinhua reports that the new 262-mile China-Laos railway has met all construction targets and is set to be fully operational by end of 2021.
What is Luang Prabang known for?
Morning Alms
The Sai Bat is a tradition where devotees offer food to the monks during the early hours of the day. This meal would constitute the monks only meal for that day. This tradition is held on the main street in Luang Prabang and silence is strictly observed during that time.
Heartland of Buddhism
Luang Prabang is known as the spiritual center of Laos. There are many 'Wats' (temple-monastery) that dot the city. These wats offer an insight into the Buddhism culture and how it has been integrated into the lives of the monks and the community as a whole.
Do you know that the currency in Laos is known as the Lao Kip?
The Lao Kip has been Lao's currency since 1955 after it replaced the French Indochina Piastre at par.
What are the 3 best neighborhoods to stay in?
Old Town
Inspirock describes Old Town as a street with picturesque houses, colonial-style villas, and dotted with monasteries. Staying in Old Town would be the highlight of your trip if you are a first-timer here. This is the area to stay in if you want to see the morning alms by the local residents.
After that, you can walk and explore the monasteries and spend some time in quiet contemplation, enjoying serenity whilst the world goes by.
Mekong Riverfront
Mekong Riverfront is the less touristy area of Luang Prabang. The area is dotted with residential homes with many converted into guesthouses. Some of the best restaurants with a view are The Viewpoint and Saffron Coffee.
Nam Khan Riverfront
This area has a backpacker vibe to it. Nam Khan is essential to Laotians as it provides them with fish and as a mode of transportation. At the end of the day, head over to Utopia, the bar along the banks of Nam Khan.
What are the best cheap hotels in Luang Prabang?
The first hotel in the best places to stay in Luang Prabang is Sanctuary Luang Prabang Hotel. This hotel is located in the heart of the city, between Mekong & Nam Khan rivers. Other than being a tranquil place, this hotel is also located close to the night market, temples and restaurants.
This hotel offers airport transfers and the room facilities include individual air conditioning, free wireless internet, in-room safe, minibar, coffee and tea facilities, cable TV, and room service.
The second cheapest hotel in the best places to stay in Luang Prabang is Maison Dalabua. This hotel offers luxury apartments with the amenities of a personal home. This hotel is a member of Pack for a Purpose. This allows guests of the hotel to save a few kilos of luggage by bringing items that they wish to contribute to the upliftment of society.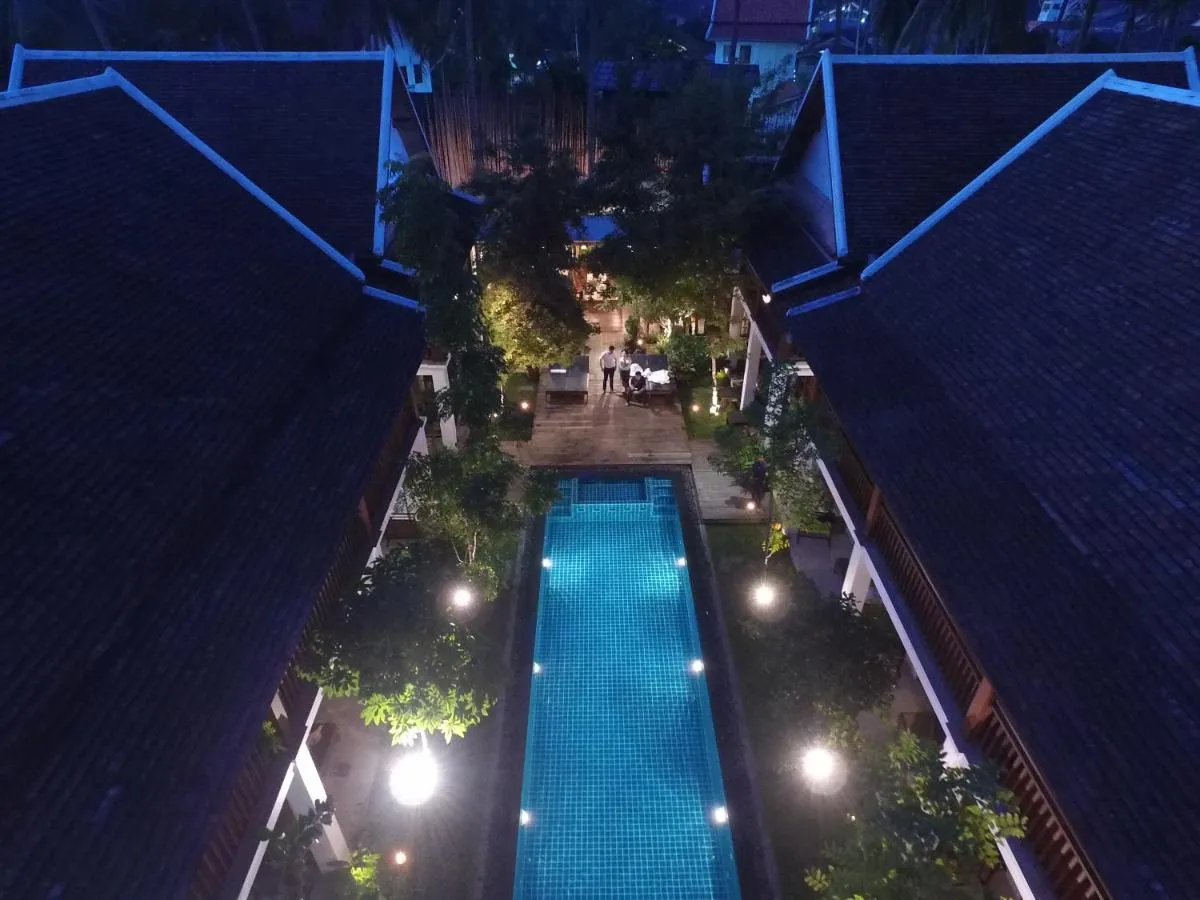 The third best place to stay in Luang Prabang is Le Sen Boutique Hotel. This quaint hotel has 19 rooms and is located near the Ock Pop Tok Living Craft Center. However, WiFi is only available in all common areas. The room rates are based on high, low, and peak seasons.
Which hotels in Luang Prabang are good for families?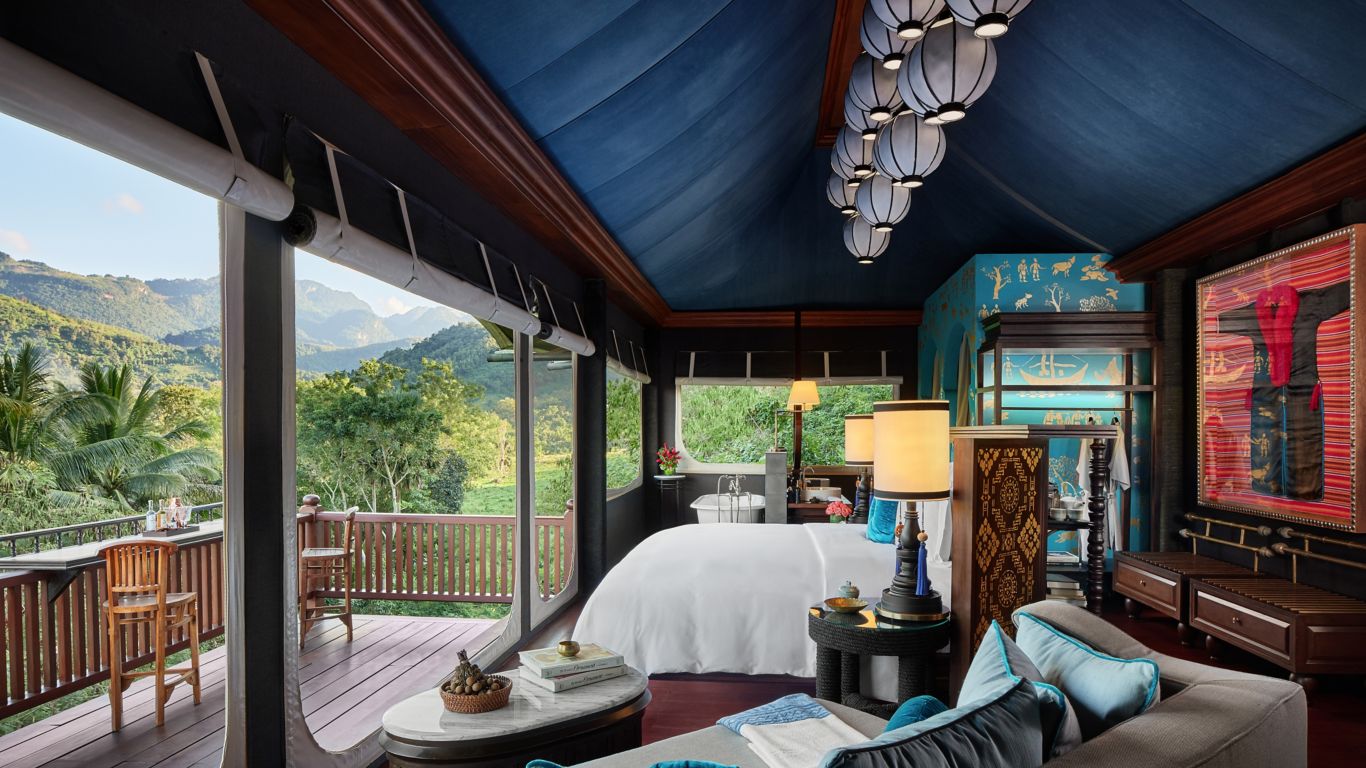 The first hotel which is good for families is Rosewood Luang Prabang. This is one of the best places to stay in Luang Prabang for families because it offers a range of activities to keep children and teenagers busy. This hotel is equipped with a swimming pool and has several bespoke itineraries to choose from.
Our second hotel which is good for children with families is The Belle Rive Boutique Hotel. The rates are available online for convenience. This hotel is good for families as has the best location on the river shore and is within walking distance of Wat Xieng Thong. This hotel provides a complimentary one-hour sunset cruise and has free bicycles for you to cycle around town.
The last of our hotels which is good for families is Burasari Heritage Hotel. One of the key features of this hotel is either arriving or leaving the in style. For that, ask for their hotel car which is a 1950's classic car. This hotel offers a unique experience where guests are taken to the morning market to buy their groceries and are then taught to cook traditional Laotian food.
What are the best luxury hotels in Luang Prabang?
This hotel is the epitome of luxury in Luang Prabang. It is located about 4.3 miles from Wat Xieng Thong on the Mekong Peninsular. Shuttle services on a first come first served basis are provided for the convenience of guests. This place has an idyllic setting where ponds, paddy fields and streams mingle.
Positioned on top of a hill overlooking the mountains, this hotel gives tranquil vibes. This hotel is 1.24 miles from the city center and 2.4 miles from the airport. Due to its location out of town, the hotel offers several experiences for you to enjoy. The hotel also has several offer packages to choose from.
The last hotel in our best places to stay in Luang Prabang is Sofitel Luang Prabang. This hotel is located in the Old Town area. This hotel is located 1.2 miles to the Royal Museum and 1.8 miles to Wat Xieng Thong, both a pleasant walk of 15-20 minutes. For ultimate luxury, book the Signature Governor's Suite which features high ceilings and an outdoor gazebo.
Is Luang Prabang Worth Visiting?
Yes! CNN Travel gives a one-minute tour of Luang Prabang. Luang Prabang is 6th in Asia's Most Picturesque Towns. Other than being home to monasteries and offering quiet relief to the busy traveler, Luang Prabang is home to Kuang Si Falls.
Josie Green in her report in 24/7 Wall St describes this natural beauty as one of the 45 Amazing Places You Never Knew Existed. The multi-tiered stone-lined pools with clear greenish-blue waters are a sight to behold. The lower levels at the bottom are wider and swimmable. There is an observation deck within the premises. An entrance fee is charged to view and swim in the falls.
Do you know that you can hike to the top of the falls? Can you guess how fast you can complete the hike?
If you are feeling hungry, you can head over to Carpe Diem Restaurant which has an amazing view of the falls from its balcony area.
RELATED:
3 Days in Siem Reap – Ultimate Guide
Interesting Places in Siem Reap – Top 5
A free-spirited traveler who dreams to conquer the world one country at a time, exploring local vegetarian cuisines and discovering off the beaten path destinations. Yes! That's me.
I've always loved creating itineraries for family and friends. With this website, I help you plan your travels by making it easier.
Our guides are mostly free self-guided walking tours, specifically trips that you can do within a day or two. We will be expanding our itineraries to cater to longer trips in the future.
Thank you for reading my blog.