Have you been off the beaten track Peru? Do you know where Peru is and what are the off-beat places? Do you know what Peru is famous for? This post gives you the answers to all those questions.
Disclaimer: This post contains affiliate links. This means, that if you click on the link and purchase the item, I will earn a small commission at no extra cost to you. Please read my Disclaimer Policy for more information. 
Where is Peru?
Peru is a country in South America. The country shares borders with Ecuador and Colombia in the north, Brazil in its east, Bolivia in its southeast, and Chile in its south. The official name of Peru is the Republic of Peru.
Peru is a megadiverse country as it has tropical forests, arid plains, and a beautiful marine coastline. Megadiverse means any country that has at least 5,000 species of flora and fauna and shares a border with marine ecosystems.
Origin of Name
There are several stories as to the origin of the name Peru. According to Britannica, Peru was from a Quechua Indian word that means abundance. According to local belief, the name is from the local ruler, Biru, who lived near San Miguel Bay during the 16th century.
Inca Garcilaso de la Vega in his work Comentarios Reales de los Incas stated that Biru was a native Indian who chanced upon a foreign ship on an exploratory mission.
What are the 5 Facts About Peru?
With a history that spreads 10 millennia and is home to the Norte Chico Civilization and the Amazon Jungle, the people of Peru are resilient and are quick to adapt to their surroundings.
Fun Facts About Peru
𝐏𝐞𝐫𝐮 𝐢𝐬 𝐡𝐨𝐦𝐞 𝐭𝐨 𝐭𝐡𝐞 𝐡𝐢𝐠𝐡𝐞𝐬𝐭 𝐝𝐮𝐧𝐞𝐬 𝐢𝐧 𝐭𝐡𝐞 𝐰𝐨𝐫𝐥𝐝. The Cerro Blanco Sand Dunes are 2,078 meters above sea level. Duna Grande was a source of water for the Nazca Empire.
𝐏𝐞𝐫𝐮 𝐡𝐚𝐬 𝟑 𝐨𝐟𝐟𝐢𝐜𝐢𝐚𝐥 𝐥𝐚𝐧𝐠𝐮𝐚𝐠𝐞𝐬 𝐰𝐡𝐢𝐜𝐡 𝐚𝐫𝐞 𝐒𝐩𝐚𝐧𝐢𝐬𝐡, 𝐐𝐮𝐞𝐜𝐡𝐮𝐚, 𝐚𝐧𝐝 𝐀𝐲𝐦𝐚𝐫𝐚. The two endangered languages are Kukama and Wachiperi. In a historic move, Peru's national broadcasting agency aired news entirely in Quechua. Quechua is the language of the Incas, a language spoken by Peruvians today.
𝐓𝐡𝐞 𝐡𝐢𝐠𝐡𝐞𝐬𝐭 𝐧𝐚𝐯𝐢𝐠𝐚𝐛𝐥𝐞 𝐥𝐚𝐤𝐞, 𝐋𝐚𝐤𝐞 𝐓𝐢𝐭𝐢𝐜𝐚𝐜𝐚 𝐢𝐬 𝐢𝐧 𝐏𝐞𝐫𝐮 𝐚𝐧𝐝 𝐬𝐡𝐚𝐫𝐞𝐬 𝐛𝐨𝐫𝐝𝐞𝐫𝐬 𝐰𝐢𝐭𝐡 𝐁𝐨𝐥𝐢𝐯𝐢𝐚. This freshwater lake is home to the Uros people. These tribes suffered oppression during the Pre-Columbian period as they were unable to secure land which led them to build reed islands on the lake. A shell llama used as an offering was found at the bottom of Lake Titicaca. No one knows why and how it got there.
𝐓𝐡𝐞 𝐀𝐦𝐚𝐳𝐨𝐧 𝐑𝐢𝐯𝐞𝐫 𝐢𝐬 𝐭𝐡𝐞 𝐰𝐨𝐫𝐥𝐝'𝐬 𝐥𝐨𝐧𝐠𝐞𝐬𝐭 𝐫𝐢𝐯𝐞𝐫 𝐢𝐧 𝐭𝐡𝐞 𝐰𝐨𝐫𝐥𝐝 𝐚𝐧𝐝 𝐢𝐭 𝐬𝐭𝐚𝐫𝐭𝐬 𝐢𝐧 𝐏𝐞𝐫𝐮. It ends in the Atlantic Ocean which is 3,278 miles away.
𝐂𝐨𝐭𝐚𝐡𝐮𝐚𝐬𝐢 𝐂𝐚𝐧𝐲𝐨𝐧 𝐢𝐬 𝐭𝐡𝐞 𝐝𝐞𝐞𝐩𝐞𝐬𝐭 𝐜𝐚𝐧𝐲𝐨𝐧 𝐢𝐧 𝐭𝐡𝐞 𝐰𝐨𝐫𝐥𝐝 𝐚𝐭 𝐚 𝐝𝐞𝐩𝐭𝐡 𝐨𝐟 𝟑,𝟑𝟓𝟒 𝐦𝐞𝐭𝐞𝐫𝐬. An ancient ceremonial site was discovered in this valley. The discovery contained 171 mummies.
Read on to know the 50 Fun Facts Which You Never Knew About Peru. 
Visa Requirements 
To encourage tourism, Peru has a relaxed policy for tourists. Citizens from Western Europe and the Americas do not require a visa and can stay for a maximum of 183 days. This is not extendable further. Citizens of Argentina, Uruguay, Brazil, Paraguay, Ecuador, Colombia, Chile, and Bolivia do not require a visa. They enter using their national identification documents.
To determine if you need a visa, check how to Obtain A Visa To Enter Peru. The countries which require a visa are on this page. The links to the Peruvian State Government's website are in Spanish. 
What are the official languages of Peru?
Spanish
One of the legacies of the Spanish conquest was its language. Spanish is one of the official languages in Peru. However, Article 48 in the Political Constitution of Peru states that "Spanish are official languages ​​and, in the areas where they predominate, so are Quechua, Aymara, and other aboriginal languages, according to the law."
Quechua and Aymara are languages of indigenous tribes in the Amazon Basin. There are 13 ethnolinguistic groups with each having its own sub-linguistics. A basic grasp of the Spanish language is essential before going to Peru. After all, Spanish is the second spoken language in the world after Mandarin. 
To learn Spanish, check out Duolingo and the Spanish Phrasebook which is also useful with basic terms you can use when traveling.
What are the types of Spanish in Peru?
Peruvian Spanish are Andean Spanish, Peruvian Coast Spanish, Andean-Coastal Spanish, and Amazonian Spanish. These are the four major types of Spanish in Peru.
Is Peruvian Spanish Easy to Understand?
Yes! If you are looking to brush up on your Spanish language, Peru is the place to be! Here are 7 Reasons Why Peru is the Perfect Place to Learn Spanish.
How do you say Hello in Peru?
Hola! This greeting is common in Peru and Spanish-speaking countries. Check out the Spanish Phrases You Need To Know before heading to Peru.
How do you say Hello in Aymara?
Laphi! That's how you say hello in Aymara. Aymara is an endangered language of Bolivia, Peru, Northern Chile, and Argentina. The older generations no longer speak to the younger generations in this language and that is what makes it endangered. Check out the Useful Phrases in Aymara and try interacting with the locals on your trip to Peru.
What are the off the beaten track Peru destinations?
While Peru is known for its most famous landmark, the Machu Picchu, there are many off the beaten track Peru destinations. And, some of these are worth the time visiting.
Sacred Valley
Our first off the beaten track Peru is Urubamba Valley or Sacred Valley. Sacred Valley is in the Andean Mountains of Peru which is 12 miles from Cusco. The people here speak Quechua. This region has snow-capped mountains, fertile lands, and agricultural terraces.
Check out the Sacred Valley of the Incas which is now a tourist hotspot. Four Sacred Valley monuments are in this post. The four monuments are Moray, Maras, Pisac, and Ollantaytambo.
Moray is 31 miles from Cusco. These terraces are an engineering marvel. This site was used as an agricultural lab to test various crops. This is because of Peru's micro-climate which ranges from tropical to arid.
Do you know that the temperature at the top and bottom terraces vary by at least 15°C?
Salinas de Maras is another name for these salt ponds. Maras is 25 miles from Cusco. This town is known for its salt ponds. This salt production site pre-dates the Incas. These lakes were created by the Wari people. There are 3,000 salt pools which are owned by families who have been working on these salt ponds since pre-Incan times.
The process to extract the salt hasn't changed. Water from a local stream is left to evaporate leaving the salt behind. The first layer is expensive and is pink or white in color. The second and third layers are of lower quality and are sold as industrial salt.
The Incan Complex at Pisac is the place to go to if you want a similar experience to Machu Picchu, without the crowds. Pachacuti built this complex as a royal residence. This site contains agricultural terraces, guard posts, residential homes, and a watchtower.
This area is part of the Pisac National Archaeological Park which was formed to protect and recognize the value of these ruins. The Willka Raymi celebrations conducted here annually. This is as a representation of offering to Pachamama, the Goddess of the Andean indigenous people.
Ollantaytambo
Ollantaytambo is another royal estate of Pachacuti. This area was the stronghold of Manco Inca Yupanqui during the Spanish conquest. He was a puppet emperor and resistance fighter against the Incas who worked with the Spaniards.
Is Ollantaytambo worth visiting?
Yes! Ollantaytambo is the transit for the four-day Inca Trail hike. Check out this Short Guide to Ollantaytambo and the 6 Reasons To Visit Ollantaytambo before heading there.
How far is Ollantaytambo from Cusco?
The distance by road is about 37 miles. This journey takes an hour. There are 5 ways to get to Cusco which are bus, train, taxi, drive, or shuttle.
How much is a taxi from Cusco to Ollantaytambo?
The taxi costs $40 to $50 and the journey takes about an hour.
Our second off the beaten track Peru is Huaca del Sol y La Luna or Temple of the Moon. This is a must-see archaeological site. This adobe site was built by the Moche people whose empire flourished between 100-700 AD in Trujuilo which is in the northwest of Peru.
The Temple of the Moon is on Xinhua News and World Monuments Fund. This site is listed as a UNESCO World Heritage Site. The government hopes to gain recognition before Peru's Bicentennial Independence in 2021.
Gocta Waterfalls
Our third off the beaten track Peru is Gocta Waterfalls. This waterfall is the 17th highest in the world and 19th in the Most Instagrammed Waterfall by TimeOut. A German named Stefan Ziemandorff "discovered" this waterfall in 2002. This wasn't a new discovery as the locals knew about these waterfalls for centuries.
He measured the height of the falls to be 771 meters. In recent news, the area surrounding the walls has been declared a conservation zone. The source of this magnificent waterfall and the Inca trail that leads to it is a separate hike altogether.
The fourth off the beaten track in Peru is Ventanillas de Combayo. These are the largest collection of funerary niches in the region. These complexes are 19 miles from Cajamarca. Check out How to Get to Ventanillas de Combayo. This trip can be combined with a trip to Ventanillas de Otuzco which is another funerary niche worth exploring. 
The last in our off the beaten track Peru is Fortaleza de Kuelap or Fortress of Kuelap. This fortress is the Machu Picchu of the North. This walled fortress is built on a limestone ridge about 3,000 meters above sea level and overlooks Utcubamba Valley.
This site was built by the Chachapoyas who are the "Cloud Warriors" of Peru. These cloud warriors were unique as they are described as lighter-skinned and had a strong will to fight. It is believed that strenghwise, they were just as capable as their Incan counterparts.
What does the word Chachapoya mean?
The word Chachapoya comes from the Quechua words "sachas" and "puyus" which translates to the cloud forest. The name describes the location where the Inca's first contact with these people was made which is where the cloud-covered forests of Amazon meet the slopes of the Andes mountains.
Some controversies are surrounding the background of this tribe considering no written records about them are available. What we have is information based on Incas and Spanish conquests who met this tribespeople. 
How do I get to Chachapoyas?
There are 5 ways to get to Chachapoyas with the recommended option being to fly to Cajamarca and then drive to Chachapoya. The drive is estimated to be about 6 hours.
What was found at Karajia?
The Sarcophagi of Carajia are described as the "ancient wise men", and stand at a height of 2.5 meters. These remains are connected to the Chachapoyas who had a culture of mummifying their dead in hard-to-reach places.
There were originally eight sarcophagi, but two have collapsed. And, from archaeological research, only important individuals were buried here, according to local belief and these sarcophagi are proof of that. These sarcophagi were made using clay, mud & straw.
Do you know that the genetic legacy of the Chachapoya resisted the Incan through today?
What is Peru famous for?
This iconic landmark, Machu Picchu is Peru's pride. This iconic 15th century Incan city sits on a mountain ridge above Sacred Valley. This engineering marvel was the royal estate of Incan Emperor Pachacuti. Machu Picchu was used for religious, ceremonial, astronomical, and agricultural purposes based on the structures found on site. 
What is Machu Picchu Famous For?
The Spanish did not conquer as they never found Machu Picchu. There is no evidence that they reached this citadel or ever attacked it. Check out the 11 Reasons Why You Must Visit Machu Picchu At Least Once and leave with beautiful memories of this ancient city.
Do Incas Still Exist?
Yes, Incas still exist and their direct descendants can trace their roots to former Incan emperors. History.com says that the Incas were created by the Sun God. The Sun God sent his son, Manco Capac to Earth. Manco Capac killed his brothers and then led his sisters to Cusco.
Do you know that the descendants of 12 noble Incan families still live in Cusco, Peru?
Montana de Sientes Colores or Montana Colores is what the locals call this mountain. This mountain is on the road to Ausangate Mountain in Cusco. Acclimatization is necessary before hiking as this mountain is 17,000 feet above sea level.
How to Get Here?
Firstly, it is a two-hour drive from Cusco. Secondly, it is then a 3-mile walk through the valleys. If you are planning a trip here, check out the 11 Things To Know Before You Visit Rainbow Mountain.
For further reading, check out What To Expect When Hiking the Rainbow Mountains and Secrets of Rainbow Mountain. This mountain is on CNBC, Forbes, New York Times, Travel+Leisure, and Atlas Obscura. 
What food is Peru famous for?
This is Peru's national dish. Ceviche is cured and spiced fish. It is best to eat Ceviche immediately upon serving to minimize the risk of food poisoning. 
Do you know that this dish has its national holiday?
On June 28, Peruvians celebrate their National Ceviche Day to honor this dish. Here's How to Make Perfect Ceviche for you and your family. 
Lomo Saltado is unique because it combines Peruvian and Chinese cultures in a single dish. This dish is unique as it has Chinese influences as it is based on the Chifa culinary traditions of Peru. This dish is a combination of beef, onions, and tomatoes with a side of fries.
The first documented Chinese immigrants arrived in Peru in 1849 and worked in the sugar plantations, mines, and constructing roads. Once their contracts were over, they set up restaurants. These immigrants from Guandong brought their woks and cooking methods with them. A step-by-step recipe to make this dish is on Serious Eats. 
The last must-try dish in Peru is Cuy. Cuy or Cobayo is a guinea pig. This delicacy also has its own national holiday, which is the second Friday in October. Guinea pigs have always played an important role in the Andean culture. Guinea pigs have always been for religious and medicinal purposes in the past. 
There are two methods of preparing this dish. The first is cuy chactado which involves squashing the guinea pig with stones and then frying it. The second is cuy al palo where it is first skinned and then roasted. 
Since there is a growing demand, there is a revival of farmed giant guinea pigs. This has brought empowerment and provided rural women with livelihood as women play a leading role in breeding these animals. 
What are the best hotels in Peru?
The top 3 best hotels to stay in Peru are Skylodge Adventure Suites, Arennas Mancora, and Titilaka.
This hotel has 3 sleeping pods with magnificent views of the valley, the Milky Way, and Sacred Valley. To access the pods, a decent level of fitness and agility is necessary as they are 600 meters above the valley.
The interior is clean with minimal items in each pod. There are no gym facilities, steam rooms, or room service. Guests have to hike for an hour and a half to get to their pods. Meals are all planned in advance and delivered via backpacks. The review is in Telegraph UK.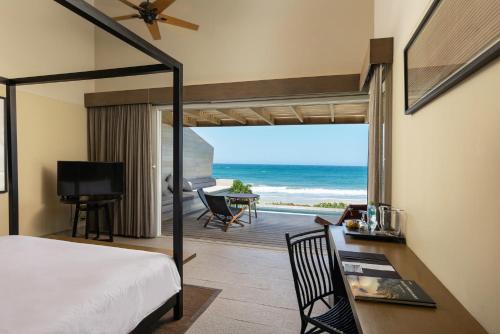 This hotel is on Las Pocitas beach which is a 20-minute drive from Mancora. This hotel is suitable for those who seek to get away from it all. This place is a paradise within paradise. The review of this hotel is in Telegraph UK.
Titilaka is a Luxury in Peru's Other Magical Highlands. This full-service hotel on the shores of Lake Titicaca has 17 rooms spread over two floors. The things to do here include a road trip on the Aymara and Colla Routes which were part of the original Incan roadways. The review is in Telegraph UK.
Is Peru Worth Visiting?
Yes! Peru has a myriad of activities to suit any traveler, whether you are a foodie, historical buff or simply lazing around the beach. Check out the Top 5 Places to Visit in Peru, the Ten Things To Know Before You Visit Peru, and 12 Reasons Why You Should Go To Peru Now.
These are the 7 Things To Know Before You Go. Peru is one of the safest countries to visit in South America. We just need to take extra precautions and not leave our valuables unattended and be extra vigilant.
RELATED: