Iceland, a Nordic island country on the North Atlantic Ocean is one of the most sparsely populated nations in the world. Do you know where the coolest places to stay in Iceland are? This post takes you through 5 of the coolest accommodations you can find in Iceland.
Disclaimer: This post contains affiliate links. This means, if you click on the link and purchase the item, I will earn a small commission. Please read my Disclaimer Policy for more information.
Where is Iceland?
Landnámabók is the "Book of Settlements" that describes Iceland as being inhabited during the Viking Age of 870 – 930 AD. The first copy of this book has not survived. An online version of this ancient text is available as The Settlement Book.
Iceland's closest neighbor is Greenland and geographically, it is closer to Europe than North America. Iceland has a subarctic climate. The three regions which share this climate are the Aleutian Islands, the Alaskan Peninsula, and Tierra Del Fuego.
What is Iceland famous for?
The Land of Fire and Ice is what Iceland is known. Iceland is a country of contrasts. Active volcanoes, large glaciers, and long summer days are some of the reasons this country is famous.
Do you know that an Icelandic explorer discovered North America half a millennium before Christopher Columbus?
Leif Erikson was the son of Erik the Red, the founder of Greenland. There are conflicting versions of Leif's voyage to Vinland. According to the Book of Icelanders, Leif saw Vinland after being blown off course on his way to Greenland.
Norse Mythology
These mythologies were the oral and written works of pre-Christian inhabitants of the Scandinavian people during the Middle Ages. These texts were created in Iceland and are known as Prose Edda.
Prose Edda is a compilation of works by Snorri Sturluson, a historian, poet, and politician. This text is an interpretation of where human beings have supernatural powers. Deities and supernatural beings have magic and are deified. 
Volcanoes
Iceland is home to at least 31 active volcanoes where at least 18 eruptions have occurred since 900 BC. The two famous volcanic eruptions are Laki in 1783-84 and Eyjafjallajökull in 2010. Telegraph gives 15 Reasons Iceland is the Most Fascinating Country on The Planet.
What are the coolest places to stay in Iceland?
The Blue Lagoon
The Blue Lagoon is one of the coolest places to stay in Iceland. This geothermal spa is located in southwest Iceland. The man-made lagoon's silky blue color is from its high silica content. This lagoon is the by-product of a geothermal power plant that supplies superheated water to run the turbines which provide electricity.
There are several things to do near the Blue Lagoon.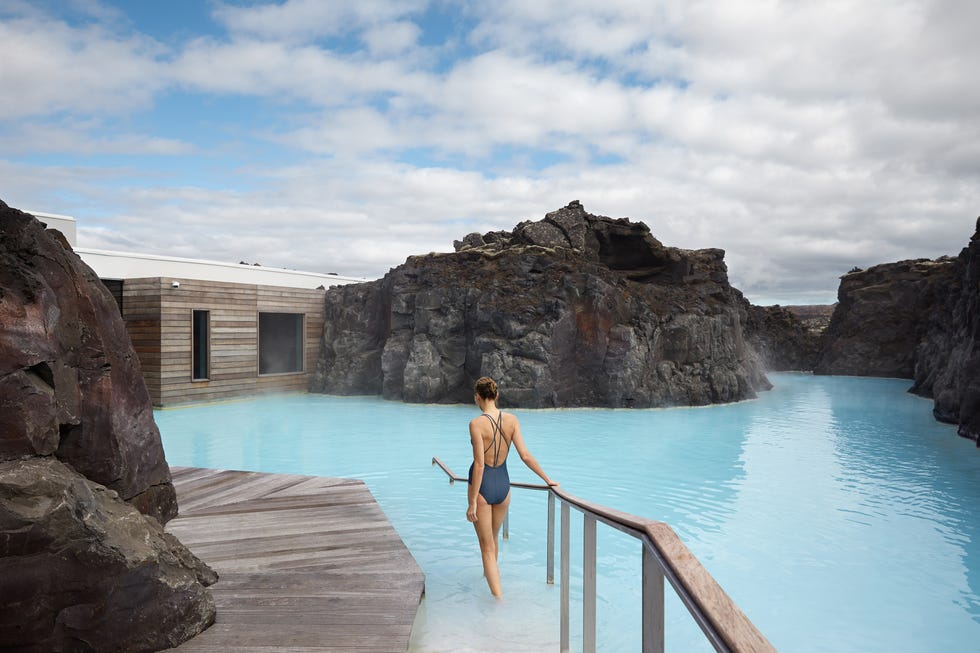 The second coolest place to stay in Iceland is this hotel which has been featured by Forbes, Evening Standard, and Elle. There are several suites to choose from, some of which have private pools. There are several things to do near the Blue Lagoon which you can do during your stay here. Both the Blue Lagoon and The Retreat are located about 45 minutes, 31 miles from Reykjavik.
This hotel has been featured in Forbes, Conde Nast Traveler, and Lonely Planet Travel News. The Bubble Hotel is about 44 miles from Reyjavik which is an hour's drive. There are 18 bubble rooms where you can sleep under the stars or simply watch the Northern Lights.
The Tree Bubble
This bubble is Iceland's first hanging tree bubble. This bubble is located in the forests of Selfoss. A point to note is that guided tours are part of the booking. The guided tours are the Golden Circle Tour and South Coast Tour.
This glass lodge is located 75 miles from Reyjavik which is about 1.5 hours drive. Panorama Glass Lodge has been featured in Lonely Planet Travel News, My Modern Met, and Fodor's Travel.
This resort does not have a waiting list and they are booked out fast. It is best to book 6-7 months before arrival. The good news is that two new lodges would be opened sometime this year. 
This hotel is an hour's drive as it is about 28 miles from Reyjavik. This hotel has been featured in Thailand Tatler, The Telegraph UK, and New York Times. There are several rooms available with the Thermal Junior Suite being the most popular.
The activities to do here include diving, fishing, horseback riding, and swimming in their hot spring bath. This hotel has done an excellent job of combining natural elements, sustainable practices, and innovative design to give guests top-notch service.
The last of the coolest places to stay in Iceland is Hotel Ranga. Hotel Ranga is 63 miles from Reyjavik which is about 1.5 hours drive. This hotel has done an excellent job combining local art, sustainability practices, and hospitality. The green measures include electricity provided by geothermal power plants.
Another green measure is the use of energy-saving light bulbs and the use of motion sensors in corridors to reduce power consumption. A testament is a fact that this hotel has been featured on The Scotsman, Telegraph UK, and Forbes.
What is the most beautiful part of Iceland?
Gullfoss Waterfalls
Gullfoss Waterfalls is one of Iceland's best waterfalls. Gullfoss means "Golden Falls" and is a 2-hour drive in Reyjavik. This fall is in Rvita River Canyon. A unique feature of this fall is its two stages.
The water from the Hvita River comes from the Langjökull glacier and cascades at a height of 11 meters in its first stage. In the second stage, the water comes down to 21 meters. With canyon walls on both ends, it is a display of mother nature's true power.
The guided tours are the Golden Circle Tour and South Coast Tour.
Askja
This is an active volcano located in a remote part of Iceland. It is 374 miles from Reyjavik which is about 8.5 hours drive. Askja is an Icelandic term that means caldera. There are several lakes in the area. 
The larger lake is Öskjuvatn which is the deepest lake in the country. The smaller lake is Viti lake.
Do you know that this area was a training ground for the Apollo space program in the 1960s?
The Askja Volcano was unknown to many until a major eruption in 1865. The ashfall from that eruption was enough to poison the land and kill livestock. The last eruption was in 1961. However, there has been an earthquake swarm that has made this volcano off-limits for now.
Seljalandsfoss
Seljalandsfoss is a beautiful waterfall 80 miles from Reykjavik which is about 1 hour and 45 minutes away. This waterfall has appeared on several TV shows and a musical clip. This waterfall is one of the World's Most Instagrammed Waterfall. It has been featured in The Telegraph UK.
Vatnajökull
Vatnajokull is the biggest glacier in Iceland and the second-largest in Europe. To protect nature, a limited number of tourists would be allowed into the ice caves. With climate change, the glaciers are now retreating at an alarming rate. This is a UNESCO World Heritage Site. 
Jökulsárlón
Jökulsárlón is an Icelandic term that means "glacial river lagoon". This glacial river is located in South Iceland and is accessible via car or bus. A trip to Jökulsárlón and Vatnajökull is suitable as a day trip as these two glaciers are next to each other.
Reynisfjara Beach, Vík
This black-sand beach on Iceland's South Coast is its most scenic beach. The black sand is because of its volcanic past. Cool, hardened lava created the rocks. A stroll along this beach takes you back in time to when this place was an active volcano. Imagine walking on an eroded volcanic black sand beach, exciting isn't it?
Is Iceland Worth Visiting?
Absolutely! Here are 10 Reasons Why You Should make this trip. Here's why.
Why Should I Go?
It is one of the most beautiful places on earth.
A day trip on the Golden Circle would take you to the most visited tourist sites.
If Blue Lagoon isn't your thing, head to Myvatn Nature Baths which gives a similar experience. Myvatn is a natural lagoon.
Experience the waterfalls and glaciers. 
Lastly, don't forget the Northern Lights. Check out the 22 Best Places To See The Northern Lights.
RELATED:
Unique Stays In Malaysia You Now Know!