Are 3 days in Yogyakarta enough?
Yogyakarta is the cultural heartland of Java and is known for its stunning landscapes, vibrant culture, and rich history. It was because of these three that we decided to make that trip to Yogyakarta. After all, Borobudur had been on my bucket list forever and now was the time to check Borobudur off my list. 
Our 3 days in Yogyakarta itinerary includes our visit to the two most iconic UNESCO World Heritage Sites in Indonesia, Borobudur, and Prambanan. For an off-beat destination, we visited the mystical Dieng Plateau and the Mount Merapi ruins. 
Our blog post takes you on a journey through Yogyakarta and explores its main tourist sites over three days. Prepare to immerse yourself in the breathtaking scenery, and historical significance of Yogyakarta as we guide you through our unforgettable adventure. 
So, let's start our journey and discover the wonders of Yogyakarta!
Disclaimer: This post contains my affiliate links which may earn me a commission if you click on them, at no extra cost to you. Thank you for reading and supporting my blog!
Purchase an Indonesian eSIM that gives you instant connectivity with excellent customer support and no hidden fees. 
For a magical experience, watch the sunrise and sunset from the top of Mount Merbabu, Central Java's most popular volcano. 
Or, visit Cetho and Sukuh Temples, explore Solo City, and end your trip by visiting the ancient Batik Museum and Mangkunegaran Palace. The palace is known for its unique blend of Javanese and European architecture.
Adventure seekers can join the Jomblang Cave and Timang Beach tour where you need to rappel 60 meters to the bottom of the cave. Look up towards the sky and marvel at the beauty as the sunshine peaks through the cave.
Join the Selogriyo Temple tour which takes you through the rice terraces of Java. This 9th-century temple is on the slopes of Mount Sumbing and is surrounded by forests, lush greenery, and paddy fields.
If you are looking for something beyond a day trip, join the 3 days Mount Bromo and Ijen tour where you experience the beauty of Mount Bromo at sunrise. These are two of Java's most famous volcanoes; a trip here would leave you lasting memories. 
Read more:
Where is Yogjakarta?
Yogyakarta is a bustling town that is home to a million people and is the capital city of the Special Region of Yogyakarta. It is a special region as it is the only city in Indonesia that is ruled by a monarchy. 
The city is a popular tourist destination and is the cultural center for Javanese art, architecture, and culture. The city was named after Ayodhya, the birthplace of Lord Rama. 
Yogyakarta is located is in Java and is surrounded by Mount Merapi on its north and Mount Merbabu on its northwest. The city borders the Indian Ocean on its south. The city lies on fertile plains with Progo and Opak rivers flowing through.
With a tropical monsoon climate, the dry season from April to October is the best time to visit. 
While Borobudur and Prambanan would be the highlights of your trip, as it was ours. There are many other things you can do in Yogyakarta. You can visit the famous batik marketplace at Beringharjo Market or visit the silverwork production in Kotagede.
History
The earliest known Canggal inscription mentioned that Yogyakarta was known as Mataram and was part of the Medang Kingdom, established by King Sanjaya. 
In the heartland of Progo Valley and on the slopes of Mount Merapi, Mataram became the center for Javanese Hindu-Buddhist culture. It was during this time that many candi's were built. Borobudur and Prambanan were built during this time. 
By the 16th century, Kotagede was established as the capital of the Mataram Sultanate. The sultanate reached its peak and expanded to Central, East, and half of West Java. 
By the early 18th century, the Sultanate of Yogyakarta was established with Prince Mangkabumi as its founder. Mangkabumi ascended the throne as Sultan Hamengkubuwono I and established the House of Hamengkubuwono that rules Yogyakarta to date.
The Dutch briefly occupied Yogyakarta in 1812 but it was returned to the Sultanate of Yogyakarta during the Java War. By 1945, the Indonesian Revolution Movement began and Yogyakarta was at the forefront. 
Yogyakarta's support was important which led to the city becoming the national capital of the Indonesian Republic from 1946 to 1948 after the fall of Jakarta to the Dutch. 
Because of Yogyakarta's significant contribution towards the establishment of the Indonesian Republic, Yogyakarta was given autonomy as a "special district".
Today, the city is home to two UNESCO World Heritage Sites, abundant historical and cultural sites, and is known for its traditional Javanese art, culture, dance, and music. 
Visa Requirements
Your nationality, length, and purpose of stay would determine if you require a visa to Indonesia. The most common types of visa available are those with visa exemptions, visa on arrival, an advanced visa, and those who require long-stay visas for work. 
Citizens from the United States, Canada, the United Kingdom, Australia, and New Zealand have a 30-day visa exemption. Citizens from ASEAN countries are also exempted from visas. This means that tourists can enter Indonesia without a visa for up to 30 days for tourism purposes.
Indonesia has an electronic Visa On Arrival System or e-VOA available to citizens from Austria, Thailand, Singapore, and India to name a few. You can apply directly at the Directorate General of Immigration Ministry of Law and Human Rights website.
Citizens of Yemen, Iraq, Iran, the United States Virgin Islands, and British Indian Ocean Territory are some of the countries which must obtain a visa before arrival. You can get the visa from the closest Indonesian Embassy or Consulate Office. 
Long-term stay visas for more than 30 days are also available for certain citizens. These visas require additional documents for submission and have a longer processing time.
Alternatively, you can apply for an Indonesian Visa using iVisa which aims to make traveling easier. With a global team that spreads across 17 countries, someone is available to answer your queries. Most importantly, your credit card details are always secure.
How do you travel around Jogja?
As Jogjakarta is a small city, getting around isn't expensive and won't take much time. If you are staying at Jalan Malioboro, the main shopping street, walking along that street is your best way to see the sights and experience the sounds of the city.
Buses
Buses are the main mode of public transportation in Yogyakarta. There are two types of buses with the regular buses being the longer and the shorter buses, Trans Jogja being the more popular option.
Trans Jogja buses operate from 6 am to 10 pm, are air-conditioned, and are generally safer. A flat fee of Rp 3,600 ($0.25) is charged for any distance along the route. There are six routes available. Be prepared to walk as the bus stops would be far from your destination.
The regular bus operates from 6 am to 5 pm with some longer routes until 9 pm. Tourists shouldn't take these buses as pickpockets are more common. The fare is Rp 2,500 ($0.20) within the city, regardless of the distance. Never carry your personal belongings if you decide to take this bus.
Rideshare
This is one of the most convenient ways to get around Yogyakarta. Gojek is a multi-service technology company that started as a motorcycle e-hailing company. The company has now expanded its services to include food delivery, grocery delivery, and courier delivery services.
Grab is another multi-service e-hailing company that has revolutionized the transportation industry in Indonesia. Unlike Gojek which can only be used in Indonesia, Grab is an application that can be used across South East Asia, so long as you have sufficient funds within its e-wallet.
Taxis
These are another best way to get around. The taxis are metered and the drivers are trustworthy. The starting rate is about Rp 6,000 ($0.40) and a trip around town should not cost more than Rp 15,000 ($1). The rates after dark start at Rp 20,000 ($1.35). 
Andong
These traditional horse carts wait for tourists around Jalan Malioboro and at the Sultan's Palace (Kraton). A round trip on an andong is about Rp 20,000 ($1.35) to Rp 30,000 ($2)  with a ride from the Sultan's Palace to Jalan Malioboro. 
Private Car with Driver
This is the most convenient way to get around Yogyakarta. You can either hire a private car with a driver or tailor-make your tour around Yogyakarta. You will get English-speaking drivers and travel in an air-conditioned vehicle with hotel pick-up and drop-off. 
How many days should I spend in Yogyakarta?
We suggest two full days just to explore Yogyakarta. On our trip, we did Borobudur on our second day and combined it with several off-the-beaten-path destinations. On our third day, we only visited three places which were Prambanan, Mount Merapi, and Candi Mendut.
We flew back home on day 4 which gave us enough time to rest and relax in our hotel. The highlights of our trip were Borobudur and Prambanan which we visited over two days. 
Let's get on with our guide now!
Day 1: Arrival and Free and Easy
We woke up bright and early to catch our morning flight to Yogyakarta. It was our first trip there and naturally, we were excited. After passing through immigration and customs, we walked to our gate and waited.
It wasn't long before we were called to board. Our flight time from Kuala Lumpur took about 2 hours and 35 minutes. Our flight was a smooth one and as our flight prepared to descend, we were greeted with this view. 
This was an Air Asia flight and my seat was 15A. I was already in awe. The cloud over the volcanoes was a beautiful sight. And, it was not just one volcano, there were many as my eyes could see. 
Once we landed, we walked to the International Arrival Hall at Yogyakarta Adisucipto International Airport. The airport is about 3.7 miles from the city center and was once the fourth busiest airport in Indonesia. We were excited as our 3 days in Yogyakarta itinerary was about to begin.
We traveled to Yogyakarta in 2013 and at that time, the airport was basic. Our bags were placed in the luggage area in a small and narrow area. It was already crowded with more than 100 other passengers searching for their bags.
To avoid further congestion, my husband made two trips to check and confirm our bags. Once we were certain that the bags were ours, we handed our Customs Declaration Form to a Customs Officer waiting in the area.
This airport is now replaced by the newer Yogyakarta International Airport which can accommodate more than 2 million passengers annually. The newer airport can now serve wide-bodied aircraft such as Boeing 777s and Airbus A380s. We cleared immigration within a few minutes and we were relieved to find our driver waiting for us outside the arrival area.
It was almost lunchtime and we were hungry. Our driver took us to this authentic Javanese restaurant, Bale Kampung. Bale Kampung means traditional house. "Bale" in Indonesian means house while "kampung" in Indonesian means village or neighborhood. The Javanese-style pavilion with wooden furniture gave the place a cozy atmosphere. There is table seating inside. We chose this pavilion instead. 
Some popular food on the menu includes sate ayam (grilled chicken skewers), gudeg (young jackfruit cooked in coconut milk), and ayam penyet (smashed chicken). The only item which can cater to vegetarians is the nasi goreng (fried rice) which I took. We ended our meal with pisang goreng (fried banana fritters) which were topped with chocolate sauce. Heavenly!
The food here was tasty and the staff was friendly and helpful and the prices here reasonable. 
After lunch, we checked in to our hotel, the Manohara Resort. This is the only resort within Borobudur National Park. We ended our day 1 of our 3 days in Yogyakarta by resting and relaxing. Manohara Resort has its own Borobudur Sunrise and Sunset Tours. 
The hotel was lovely in that it was surrounded by gardens and having breakfast with a view of Borobudur was calming and relaxing. There are only 35 Javanese-inspired rooms which were neat, clean, and spacious. 
The room was air-conditioned and had hot water along with other amenities such as free WiFi, a hairdryer, ironing facilities, and a restaurant on-site. We loved our misty morning garden every day we woke up here. 
Since we were not keen on a sunset tour, we pre-booked our Sunrise Tour instead. We paid Rp 250,000 ($17) since we were hotel guests. The rate for non-hotel guests is Rp 500,000 ($34) per person.
Day 2: Borobudur, Telaga Warna, Dieng Plateau, Sikidang Crater
Our first stop in our 3 days in Yogyakarta was Borobudur. Just before sunrise, around 5 am, we prepared ourselves and made our way to the reception counter where we met our guide. We were each given a torchlight as it was still dark. The early briefing was fast and simple with the main rule to always stay within the group and not sit on the structure.
With our tiny torchlight, we made our way to the main entrance of Borobudur and began climbing. We climbed to the top and we decided that we would explore the other levels after sunrise, just before the tourist crowd came in.
Once we reached the top, it was already crowded with everyone choosing their best spots. We found a spot and waited for the sunrise. Since it rained the night before, we weren't expecting a stunning sunrise. The best place to see the sunrise would be to get a seat facing East on the circular platform. 
Borobudur was designed as a single large stupa and takes the form of a giant tantric mandala. This represents both Buddhist cosmology and the nature of the mind. Borobudur is divided into three realms with each representing Buddhist cosmology.
For example, the top area is Arupadhatu represents the formless world while the level below that is Rupadhatu represents the forms in the world. The last area, the Kamadhatu represents the world of desires.
Just after sunrise, we walked around the structure with our guide explaining the bas-reliefs as we made our way down. While the bas-reliefs at the Arupadhatu level were rather plain, the bas-reliefs at the lower levels were much more ornate.
They described life in the 8th century with depictions of royal court life, markets, temples, and commoners in their daily life. Spiritual beings such as gods, asuras (demons), apsaras, and bodhisattvas are also shown.
As we continued down, our guide showed us the Borobudur Ship which is an 8th-century South East Asian double outrigger ship carved on the bas-relief of Borobudur. A replica of the Borobudur ship is on display at the Samudra Raksa Museum within the Borobudur Archaeological Complex.
After visiting both Angkor Wat and Borobudur, we felt that Borobudur was and remains the pride of Indonesia. With the help of UNESCO, Borobudur was diligently restored. With the restoration, Indonesian Buddhists hailed it as a sign of Buddhist revival.
In the 1930s, a Bodhi tree was planted on the southeastern side of the structure and every year, thousands of Buddhist monks flock to Borobudur for Vesak celebrations.
Once we reached the gate that lead to our hotel, we made our way back and had our breakfast before moving on to our next destination of the day.
After breakfast, we made our way to Telaga Warna which was a 2.5-hour drive from Borobudur Archaeological Complex and our second stop in our 3 days in Yogyakarta. Telaga Warna means colorful lake. The lake is located in Wonosobo, Central Java.
The lake gets its name due to the changing colors that occur during the day and time of your visit. The color changes from yellow to green and sometimes rainbow color. The high sulfur content causes the lake to change color.
To get to this viewpoint, you would need to hike some steep steps. The viewpoint was very basic when we visited. However, things have changed and there are now more facilities in the area.
Legends of Telaga Warna
There are several legends of Telaga Warna but we will only look at the legend of the Dragon Prince and the legend of the mermaid.
According to the legend of the Dragon Prince, there was once a powerful ruler who lived in a palace beneath Telaga Warna. He was feared by many because he could control the weather. Yet, he was also kind and generous with many people seeking his help at times.
A poor farmer came to the Dragon Prince as his crop was destroyed in a storm and there was no way he could feed his family. 
When the Dragon Prince heard the farmer's story, he took pity on him and used his powers to create a bountiful harvest for the farmer. After that day, the Dragon Prince was known as a protector of the people.
In the Legend of the Mermaid, a beautiful mermaid once lived in Telaga Warna. One day, a rumor spread that the mermaid could grant wishes to those who caught her. But, no one was successful.
One day, a fisherman cast his net into the water and eventually pulled out the mermaid. While the fisherman was tempted to cast his wish, he refused to take advantage of the mermaid's powers. He released her back into the lake, earning her gratitude instead. 
Our third stop on our 3 days in Yogyakarta was the Dieng Temple clusters. These temple clusters are a quick 3-minute drive from Telaga Warna. While the history and real name of these temples remain unknown, the temples are the oldest surviving Hindu temples in Java.
These temples were estimated to be built around the 8th or 9th century. We visited the Arjuna cluster of temples which consisted of four temples that are aligned in a north-south direction.
The Arjuna temple is at the northern end while at the southern end are the Srikandi, Puntadewa, and Sembadra temples. The Arjuna temple has probably been there since the reign of the Mataram Kingdom. 
Semar Temple is in front of Arjuna Temple. With its basic design and lack of ornaments, Semar may have been used to store prayer items and equipment.
Srikandi temple was unique in that the outer walls featured carvings of Hindu gods with the main temple displaying the Trimurthi or the three major gods in Hinduism which is Brahma, Vishnu, and Shiva.
The Puntadewa is the best-preserved temple among the three and features a "relung" which could have been used to display the deity or store ornaments. 
The last temple we visited on this site was the Sembadra temple. At first glance, it looked like a two-story building. While the roof of the temple has crumbled, it could have had a stone ornament shaped like a lotus flower.
Our last stop on day 1 of our 3 days in Yogyakarta was Sikidang Crater. This crater is an 8-minute drive from the Dieng Plateau Temple Clusters. Sikidang Crater is part of the larger Dieng Plateau Volcanic Complex which includes other hot springs, lakes, and craters. 
We arrived here in mid-afternoon and it was hot. While there is a wooden boardwalk that leads to the perimeter of the crater, it is uncovered. As with any other crater, we kept our distance, for obvious reasons.
The crater emits high sulfur smoke and it is better to wear a mask in this area. The smell of rotten eggs was unbearable. We bought our masks from a peddler selling masks near the site. While some vents have craters bubbling with water, the highlight was the crater in our photo.
We hiked for about 200 meters on an uphill and rugged terrain before spotting the steaming bubbles and strong smell that got stronger as we walked closer to the crater. This crater was the largest and was constantly bubbling. Here, the water mixed with mud gives it a brownish color. 
After being in awe and taking as many photos as we could, we carefully hiked back down to our waiting car which took us back to Yogyakarta. 
Day 3: Prambanan, Mount Merapi, and Mendut Buddhist Monastery
Our first stop on day 3 of our 3 days in Yogyakarta was the Prambanan Temple clusters. This temple cluster is about 35 miles or a 1.5-hour drive from Borobudur. Prambanan is a UNESCO World Heritage Site and is the largest Hindu temple in Indonesia.
And, the second largest in South East Asia, after Angkor Wat. After paying for our entrance ticket of USD 25 per person, we walked slowly towards the temples. The scattered stones are the remnants of smaller temples surrounding the main temples.
At one time, there were 240 temples in this Shivaite temple complex. Our guide explained that these temples were also known as Candi Rara Jonggrang which is a local folklore of love, betrayal, and a cursed princess.
As we walked towards the base of the temples, the sheer size of the largest temple was mind-blowing. And, to think that these monuments were constructed without any modern equipment makes it more astounding. 
The largest temples are based on the Hindu concept of Trimurti with the largest temple dedicated to Lord Shiva. The Brahma and Vishnu temples are at his side.
The smaller temples in front of these temples are dedicated to the vahana or the deity's mount. In this case, it is Nandi for Shiva, Garuda for Vishnu, and Hamsa which is a swan for Brahma.
The Shiva temple is the tallest and largest structure within the Prambanan complex and stands at 47 meters. We entered the temple from the eastern gate. We circumambulated a pradakshina with our guide who explained the bas-reliefs that depicted the story of the Ramayan.
As we walked into each of the chambers, we could only imagine how lively and busy this temple was in its prime. Three smaller chambers contain the statues of Lord Ganesha, his consort, and Durga in the form of the demon slayer, Mahisasurmardani, and the rishi, Agastya.
What stood out for us was the fact that these temples followed the typical Hindu architecture based on Vastu Shastra. While Prambanan was for  Lord Shiva, its design mimics Mount Meru.  
After spending almost two hours at Prambanan, we made our way to the next on the agenda of our 3 days in Yogyakarta which was a Mount Merapi Jeep Tour. This was the most adventurous part of our trip. It was a rough ride all the way.
Our first stop was visiting the abandoned home in what was once a thriving village. The clock above stopped when the last major eruption of Mount Merapi occurred.
For context, in late October 2010, the Mount Merapi eruption caused the deaths of 353 people with 350,000 people being evacuated. Mount Merapi's spiritual gatekeeper, Mbah Maridjan was among the casualties. 
The volcano is the most active among Indonesia's 120 volcanoes. The Cankringan district with 9 villages in it was declared a prohibited zone where no one can stay or place permanent structures after the 2010 eruptions.
After that, we went to the bunker which was built for the villages in the event of an eruption. The bunker was small and we were sad when our guide told us that no one in the bunker survived. They had all died from heat and smoke inhalation. Imagine that while the lava flowed above them, the bunker became a pressure cooker which resulted in a higher death toll.
The last area on our Mount Merapi jeep tour was where our guide explained that this was once a river until the 2010 eruption. The river is now replaced by rocks and stones. 
The last of our 3 days in Yogyakarta was Candi Mendut. This temple is about 1.8 miles east of Borobudur. Mendut, Pawon, and Borobudur are in a straight line and no one knows why.
An inscription on the temple mentions that it was built by King Indra of the Sailendra Dynasty in 824 AD who built a venuvana or "bamboo forest". The Mendut Buddhist Monastery is next to Candi Mendut and is worth exploring. Entrance is free for the monastery.
To get here, you would need to turn left as you exit the Mendut Buddhist Monastery and pass a narrow road full of souvenir stalls. You will reach a ticket counter and pay an entrance fee of Rp 25,000 ($1.70) which is subject to change.
Candi Mendut stands at 26.4 meters in height and is laid out in a rectangular plan. The stairs to the walkway are on the west. The banisters on the stairs describe the stories of the teachings of Buddha.  
The photo above shows the bas-relief on the southern wall which depicts Bodhisattva Avalokitesvara where Buddha is sitting on a lotus throne under the shade of the kalpatru tree. 
As the temple is much smaller compared to Borobudur, we walked around each side with our guide explaining the other bas-reliefs in detail. Inside the temple are three large Buddhist statues with the center being Dhyani Buddha Vairocana who liberates devotees from bodily karma.
The statue on the left is Avalokitesvara who liberates from the karma of speech while the Vajrapani liberates devotees from the karma of thought. Just as we were coming out, we saw a pile of stones and our guide explained that these stones were for identification and reconstruction purposes. With Candi Mendut complete, we wrapped our 3 days in Yogyakarta trip. We headed back to our hotel for some rest and relaxation.
What are the best places to stay in Yogyakarta?
Plataran Heritage Borobudur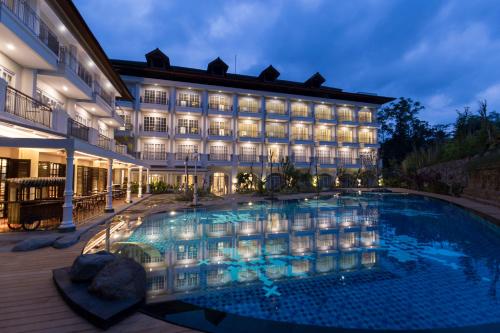 If we had more than 3 days in Yogyakarta, we would come to Plataran Heritage Borobudur Hotel. This 75-room luxury hotel has a background of Menoreh Hills and Borobudur just nearby. The hotel perfectly blends colonial style with modern elegance. 
While some rooms overlook the gorgeous swimming pool, other rooms have stunning views of Menoreh Hills and lush paddy fields. The Founders' Suite is, of course, the best room in the hotel. 
The founders of the hotel designed the rooms here. The spacious rooms come with a balcony that overlooks Menoreh Hills, a shower and a bathtub, and a turndown service. Free WiFi is available in all rooms.
Guests loved the courteous and friendly staff, the peaceful location, and the clean rooms. Other reviewers also loved the good food and the fact that the hotel had plenty of in-house activities to keep adults and kids occupied.  
The Omah Borobudur Hotel
Our second choice, if we had more than 3 days in Yogyakarta, would be the Omah Borobudur Hotel. This 10-room hotel is a quick 15-minute walk to Borobudur and a 5-minute drive to Mendut Temple. 
The hotel has a 24-hour reception and all rooms come with free WiFi. This property comes with free bicycle usage, gardens, and terraces. Guests loved that the hotel was a short walk to Borobudur, with clean rooms, and excellent service.
Other reviewers also loved that the staff was friendly and the food at the restaurant was delicious. The traditional Javanese architecture of the rooms added an authentic experience when staying here.
Amanjiwo
Our third choice, if we had more than 3 days in Yogyakarta, would be Amanjiwo. This 36-room hotel exudes luxury complemented by blissful surroundings. Amanjiwo in Indonesia means "peaceful soul" where guests' experiences are of peace and spirituality.
All rooms feature hand-carved coconut wood furniture, Javanese textiles, and antique glass paintings. The hotel boasts quiet surroundings amidst a local village, Desa Majaksingi while having scenic views of the valley near Borobudur and majestic volcanoes.
Guests loved the peaceful vibes and amazing staff, and excellent service. Reviewers also loved the delicious food and the level of privacy experienced by guests. Overall, this is the place to be if you seek peace, tranquility, and luxurious service.  
Hotel Le Temple Borobudur
Our fourth choice, if we had more than 3 days in Yogyakarta, would be Hotel Le Temple Borobudur. While this resort currently has 2-rooms, work is underway for more rooms. Free WiFi is available throughout the property.
Some positive reviews include the cozy rooms and the cheerful and helpful staff that made the stay here pleasant. Guests also loved the secluded nature of the resort which was perfect for relaxing and unwinding after a long day of sightseeing.
Sarasvati Borobudur
Our fifth and last choice, if we had more than 3 days in Yogyakarta, would be Sarasvati Borobudur. The 17 rooms in this hotel are in a colonial building that is a 15-minute walk from Pawon Temple and Borobudur. 
All rooms come with free WiFi, a balcony for the higher floors and a terrace for the lower floors, and the usual amenities expected from a modern hotel. Other facilities include a swimming pool and a spa. 
Guests loved the excellent location, clean rooms, and friendly and courteous staff. Reviewers also loved the fact that there was a convenience store and many food options within walking distance from the hotel.
Frequently Asked Questions (FAQs) on Yogyakarta
Why is Yogyakarta interesting?
Yogyakarta is interesting because it is the only Indonesian city that is ruled by a monarchy. The city is also important as the center for Javanese art, culture, and heritage. If you have more than 3 days in Yogyakarta, take a day trip to Solo or join a night walking and street food tasting tour.
Is Yogyakarta and Jogjakarta the same?
Yes, Yogyakarta and Jogjakarta refer to the same city in Indonesia. The official name of the city is Yogyakarta. But it is commonly abbreviated as "Jogja" or "Jogjakarta" by the locals.
What is the best time to visit Yogyakarta?
The best time to visit Yogyakarta is during the dry season from May to September when the weather is sunny and dry. The peak season starts in July and August sees larger crowds at both Borobudur and Prambanan.

If you want to save money and avoid crowds, then the best time to visit is during the shoulder season from April to June or September to November. During these months, the weather is pleasant and you can get good deals on flights and hotels. So, spending more than 3 days in Yogyakarta is possible.

We visited during the end of Ramadan and Yogyakarta being a predominantly Muslim city, many shops and restaurants were closed. We encountered several traffic jams on our Merapi tour as the locals made their way home for Eid. 

Our suggestion would be to avoid visiting during Ramadan and Eid as activities are limited and many restaurants and shops would close for several days. 
Is it safe to travel to Yogyakarta?
Yes, Yogyakarta is generally safe. However, always use your common sense and always be aware of your surroundings. However, there are some dodgy areas that are best to avoid. Also, take care of your belongings as pickpocketing occurs in crowded areas.

Also, if you are spending more than 3 days in Yogyakarta, chances are you would meet friendly locals and persistent vendors, hence, always keep your valuables secure. And, avoid walking alone late at night, especially in dimly lit areas.
What language is spoken in Yogyakarta?
Javanese is the language spoken in Yogyakarta. The modern Javanese spoken in Yogyakarta began with the rise of the Mataram Empire in the 17th century where its written tradition was preserved by the writers of Yogyakarta and Surakarta. If you are spending more than 3 days in Yogyakarta, it is best to learn some basic Indonesian so that communication would not be a barrier.
Does Yogyakarta have an airport?
Yes, Yogyakarta does have an airport, the Yogyakarta International Airport (YIA) which serves international airlines from Malaysia and Singapore and from several cities in Indonesia.
Is Yogyakarta a big city?
No, Yogyakarta is not a big city. It is a small city with a population of 500,000 people. The Special Region of Yogyakarta is much larger and has a total population of about 4 million people. The only walkable streets are those in Jalan Malioboro and the surrounding street that faces the main entrance to Borobudur. 
Is Yogyakarta worth visiting?
Yes, Yogyakarta is worth visiting because it offers a blend of history, culture, and natural beauty. Firstly, Yogyakarta is known for its rich cultural heritage and strong Javanese traditions that are reflected in its architecture, art, dance, music, and food.

Secondly, Yogyakarta is home to two of the most important UNESCO World Heritage Sites in Indonesia, Borobudur, and Prambanan. Thirdly, the city is surrounded by scenic countryside with Mount Merapi and Parangtritis Beach which is famous for its black sand and stunning sunsets.

Lastly, Yogyakarta is known for its friendly locals who make you feel at home as you explore the city. Try interacting with them to learn more about their culture and way of life.