This is the third-largest city in Italy, after Rome and Milan. The city is regarded as one of the oldest continuously inhabited urban areas in the world and its historic center is the largest in Europe. So, what can you do when you have 2 days in Naples?
Our guide walks you through some sights that are worth visiting in Naples:
Piazza del Plebiscito
Palazzo Reale
Galleria Umberto I
Ovo Castle
And, not forgetting a day trip to Pompeii, the ancient city that was buried in volcanic ash when Mount Vesuvius erupted in 79 AD.
Venire! Unisciti a noi in un'avventura a Napoli! that means, come! Join us on an adventure in Naples!
Disclaimer: Some of the links here are my affiliate links and I may earn if you click on them, AT NO EXTRA COST to you. Please read my Disclaimer Policy for more information. Hope you find the information here useful! Thank you!
Where is Naples?
Naples, the third-largest city in Italy after Rome and Milan is located on the western coast of Southern Italy, on the Gulf of Naples. The city is in between two volcanic regions, Mount Vesuvius and Campi Flegrei. 
The city has a borderline Mediterranean climate combined with a humid subtropical climate as a result of its maritime and continental features that are typical of Southern Italy. The coldest month is January while July is the driest month and November is the wettest month.
With a 2,800-year-old history, there are plenty of monuments, castles, ruins, and culturally significant sites to visit. The city is also close to the ruins of Pompeii and Herculaneum which makes for a suitable day trip.
History
The Greeks were the first to settle in Naples during the 1st Millennium BC. They established a port and named it Parthenope. By the 6th century BC, the city was known as Neopolis. The city prospered under the Greeks and was soon an ally of the Roman Republic.
With the decline of the Roman Empire and a series of wars, the Duchy of Naples was established and eventually switched alliance to Rome under Duke Stephens II. By the 12th century, Naples joined the Kingdom of Sicily.
After the Sicilian Vespers in the 13th century, the Kingdom of Sicily broke into two where the Kingdom of Naples took the southern part of Italy while the Aragonese King of Sicily took the island of Sicily.
By the 16th century, Naples was part of the Spanish Empire, and by the 17th century, Naples was already the second-largest city in Europe, after Paris,  with a population of 250,000 people. 
The Kingdoms of Naples and Sicily were combined at the Congress of Vienna and Naples was made it's capital city. In 1861, Naples became part of the Kingdom of Italy as part of the unification of Italy.
This is a city where the past and present intertwine. The city is a thriving hub of culture, history, cuisine, music, and arts. It is a place where old buildings beautiful house modern eateries. A place where tradition is loved, honored and cherished. 
Visa Requirements for Italy
Your nationality would determine whether you require a visa to enter Italy. Take note that Italy is the founding member of the European Union which means that some nationalities would require an additional Schengen Visa for Italy. You can determine your visa requirements by answering several questions on the Ministry of Foreign Affairs and International Cooperation website. 
Alternatively, you can use the iVisa portal in Italy to determine if you need a visa. 
Citizens from the United States, the United Kingdom, Australia, Malaysia, and Singapore do not require a visa to enter. However, you would need a Schengen Visa or an ETIAS Visa Waiver to visit Italy.
Schengen Visa
Citizens from member states of the Schengen Area and the European Union only need to present an identification document to enter Italy due to the common travel area of the Schengen Zone.
The member countries are Austria, Belgium, the Czech Republic, Denmark, Estonia, Finland, and Spain just to name a few. 
European Travel Information and Authorization System
This visa waiver is for those who currently do not need a visa to enter Italy. This system ensures that all visitors entering the European Union are documented. The ETIAS Visa Waiver is currently for stays up to 90 days.
What to do for 2 days in Naples?
While Naples does have a reputation for being rough, dirty, and unsafe, this does not mean that you should skip this city entirely. Our 2 days in Naples provide a guide as to some walkable areas within the city and a day trip to Pompeii on our second day.
Day 1: Must-Visit Landmarks 
On our first day, we explore the must-visit landmarks that, although are not as grand or opulent as Milan, are well worth visiting.
From the Plebiscito Plaza to having a Neopolitan pizza for dinner, we tell you what you need to know. And, most importantly, where to find the best Neopolitan pizzas in Naples.
Piazza del Plebiscito
The first of our 2 days in Naples is Piazza del Plebiscito. This plaza was named a referendum that brought Naples under the unified Kingdom of Italy under the House of Savoy.
The plaza is bounded by the Royal Palace of Naples on its east, the Church of San Francesco di Paola on its west, and is adjacent to the Prefecture Palace and Palazzo Salerno. 
The square is also used for open-air concerts with Elton John, Bruce Springsteen, Maroon 5, and Muse having performed here during their international tours.
Palazzo Reale
The second of our 2 days in Naples is the Royal Palace of Naples. The royal palace is across the Piazza del Plebiscito and currently houses a museum and the national library.
The palace was built on the site of the residence of Don Pedro, a Marquis of Villafranca. However, the present building was built to house King Philip III from Spain, who never visited this part of his kingdom.
As you walk towards the palace, you will notice a series of statues. These statues were the prominent rulers of Naples since the foundation of the Kingdom of Naples in the 12th century. 
Must-Visit in the Royal Palace of Naples
Once inside, look out for the Throne Room, the Historical Apartment, the Court Theatre, the Room of Mariachristina of Savoy, the Royal Chapel, and the numerous courtyards. Take a walk through the Royal Gardens and access "secret" paths while admiring beautiful statues.
There is an entrance fee of €6 ($6.60) for adults and €3 ($3.30) for children between 18 to 24 years of age. There is free entry for children below 18 years old.  
Galleria Umberto I
The third of our 2 days in Naples is Galleria Umberto I which is about 100 meters from the Royal Palace of Naples. The Galleria is a beautiful light-filled arcade that is crowned with dome glass.
This shopping street was built in the 19th century and resembles Galleria Vittorio Emanuele II in Milan. While the ground floor is filled with cafes, shops, and restaurants, the upper floors are specifically for business offices.
Naples Cathedral
The fourth of our 2 days in Naples is the Naples Cathedral or Duomo di Napoli. The cathedral is also known as the Cathedral of St. Januarius is about a 5-minute drive from the Galleria Umberto.
When inside, look up towards the Dome of the Royal Chapel of the Treasure of St. Januarius which is the most lavish chapel within the cathedral. 
The traces of the Baptistery of San Giovanni and the ancient Church of St. Restitua can still be seen. Below that, lies the ancient Greek walls from the Temple of Apollo. Pieces of a Roman-era aqueduct are preserved within these walls.
However, it is the annual liquefaction of the blood of St Januarius where thousands come to witness the event. The Blood Miracle is because the blood spontaneously liquified during the papal visit of Pope Pius IX in 1848 and Pope Francis in 2015.
There is free entry to visit Naples Cathedral. An entrance fee of €2 ($2.20) is charged to visit the Baptistery of San Giovanni. The cathedral is open from 8 am to 12.30 pm and 4.30 pm to 7 pm daily. 

Ovo Castle
The fifth of our 2 days in Naples is Castel dell Ovo or the Egg Castle. This castle is about 3.5 miles or a 15-minute drive from Naples Cathedral. The castle sits on a peninsula on the Gulf of Naples.
Legend has it that Virgil, a Roman poet placed a magical egg into the foundation of the castle to support its fortifications. The story goes that had this egg broken, the castle would have been destroyed. 
The castle has magnificent views of the Gulf of Naples and Mount Vesuvius. And, the entrance to the castle is free. Although there are no guides, there are some informational plaques placed throughout the castle.
The opening hours from Monday to Friday are 9 am to 7 pm while the hours on Sunday are from 9 am to 1 pm. 
Castel Nuovo
The sixth of our 2 days in Naples is Castel Nuovo. This castle is about 1.2 miles which is a 5-minute drive or a 30-minute walk. This castle is known as the "New Castle" and is often referred to as Maschio Angiono. 
The castle was home to the Neopolitan, Aragonese, and Spanish monarchs and its architecture is a combination of these styles. The castle was built in the 13th century by Charles I from the House of Anjou who ascended the throne and Sicily.
By the 15th century, the Aragons had conquered the throne and established residence at the castle. It was during this period that the castle was rebuilt with five round towers with the Triumphal Arch as the main gate.
As you enter through the Triumphal Arch, you enter a courtyard with the Palantine Chapel on your left. These are the only surviving elements of the 14th-century castle. A spiral staircase at the end of the chapel takes you to the Hall of Barons.
The Hall of Barons was once the Throne Room is the main hall. It is known as the Hall of Barons as it was here that Ferdinand I of Naples invited some barons who later conspired against him.
At the left of the Palantine Chapel is the Armoury Hall where Roman-era remains were found. These remains are viewed through a transparent glass floor.
The other notable areas are the Chapel of the Souls of Purgatory, the Chapel of San Francesco di Paola, the Pit of the Crocodiles, and the Prison of the Barons. 
There is an entrance fee of €6 ($6.60) and the opening hours are from 8.30 am to 6 pm from Monday to Saturday and from 10 am to 1 pm on Sunday.
Pizza Neopolitan
The seventh and last item on day 1 of our 2 days in Naples is to have Neopolitan pizza for dinner. This pizza originated in Naples and is distinctly unique in that it has a thin base with puffed-up dough at its sides.
This pizza is part of UNESCO's Intangible Cultural Assets and is a Traditional Speciality Guaranteed Product of the European Union and the United Kingdom. 
A genuine Neopolitan pizza is made from wheat flour, tomatoes must either be San Marzano or Pomodorino which are both grown at the foot of Mount Vesuvius. And, the cheese must be from the milk of water buffalo that are raised in the farmlands of Campania.
There are a few best places to have Neopolitan Pizza in Naples and here's our pick of the top 3 places to visit for the best pizza in Naples.
The first restaurant is Sorbillo. This eatery began in 1935 with only 4 tables. Today, you would have to wait at least 1.5 hours to be seated as it is the best in Naples. The pizzas are made from fresh Campanian produce with simplicity at its core. 
The second restaurant is Gorizia 1916 which is an over a century-old family business where the pizza is made from traditional recipes handed down through the generation. This restaurant has an art decor interior and is a pillar for the community.
The third and last restaurant is Starita was born as a winery in 1901 and soon became a fryer. The ladle and fork framed on its wall were once used by Sophia Loren who filmed a portion of her movie, The Gold of Naples in Starita.  
Day 2: Day Trip to Pompeii
On Day 2 of our 2 days in Naples, we went for a day trip to the ancient city of Pompeii. This UNESCO World Heritage Site is one of Italy's most popular tourist attractions with about 2.5 million visitors annually.
The eighth of our 2 days in Naples is a day trip to Pompeii. Pompeii is about 18 miles or a 24-minute drive from the Metropolitan City of Naples. This ancient city offers visitors a glimpse of Roman life, frozen in time. 
The city was buried under 4 to 6 feet of volcanic ash when Mount Vesuvius erupted in 79 AD, killing 1,150 people whose bodies were entombed in ash. The future eruptions of Mount Vesuvius buried the once thriving and lavish city even further.
The other city that was buried in the 79 AD eruption is Herculaneum. Although lesser known than Pompeii, this city was the first to be discovered in 1709, during the digging of a well. Like Pompeii, this town was wealthy and was a popular seaside retreat for the Roman elite.
Is Mount Vesuvius still active?
Yes, Mount Vesuvius is still considered an active volcano with its last eruption being in March 1944 which destroyed the San Sebastiano, Massa di Somma, and Ottaviano, and parts of San Giorgio Cremano villages.
How much does it cost to visit Pompeii?
The entrance fee to enter the Pompeii ruins are €11 ($13) for adults, €5.50 ($6) for those between the ages of 18 to 25 years, and free entry for those below 18 years old. To enter Herculaneum, you would need to fork out a fee of €11 ($13) for adults.
The fee for the Archaeological Museum of Naples is €8 ($9) for adults. Take note that the museum is closed every Tuesday.
What is the best time of the year to visit Pompeii?
The best time to visit Pompeii, Herculaneum, and the Vesuvius villas are during the off-season months between November to March. In these months, you can have the archaeological ruins all to yourself as you wander the site, at your own pace, in your own time.
Is Pompeii Italy worth visiting?
Yes! And, you don't have to be a history buff to be amazed at how well preserved the ruins are. Walk among the 9 areas of the site and imagine, what life was like back then, without any modern technology or amenities.
In Regio I, stroll along the Garden of the Fugitives, the House of the Europa Ship, the House of Cryptopoticus which houses the earliest known private bath area, and the House of the Four Styles.
In Regio IX, look out for the Central Baths and then move to Regio VI which houses one of the largest excavated houses in Pompeii, the House of the Faun. Other areas worth visiting in this area are the Villa of the Mysteries. You can easily spend a day here. Bring an umbrella, a water bottle, and end your visit at the cafeteria on-site.
OPTIONAL: Positano
The ninth and optional portion of our 2 days in Naples is a day trip to Positano. This village is about 36 miles and is an hour's drive from Naples. Due to its mild Mediterranean climate, this village has been a holiday resort since the Roman era.
However, the earliest known settlement was during the Upper Paleolithic Period in a cave inhabited by a tribe of hunter-gatherers. The first known Roman villas were built during the 1st century BC.
While Positano was once a poor fishing village in the early 20th century, Positano is now a UNESCO World Heritage Site and is one of the most romantic vacation spots along the Amalfi Coast. John Steinbeck, a Nobel Prize Novelist Winner in 1953 beautifully describes Positano as 
"Positano bites deep. It is a dream place that isn't quite real when you are there and becomes beckoningly real after you have gone."

John Steinbeck
The main tourist sites are the Santa Maria Assunta Church, the Roman Archaeological Museum, and the Path of Gods hiking trail which is a must-do when in Positano.
The popular beaches are Fornillo Beach, Maria Grande Beach, Positano Spiaggia, and Arienzo Beach. 
Do they speak English in Positano?
In the tourist areas around Positano, you can speak English. However, English is not widely spoken among the local population which is why it would be essential to learn some basic Italian phrases. 
Can you drink the tap water in Positano?
Yes, the tap water in Positano is safe to drink. However, restaurants serve bottled water and that may be a better option. 
Do you need a car in Positano?
No, you do not need a car in Positano. You can arrange with Positano Car Services to arrange pick-ups and tours in and around Positano.
What is the best time to visit Naples, Italy?
Naples has a humid subtropical climate with a borderline Mediterranean climate. The summer months have hot days and warm nights with an occasional thunderstorm. Naples has mild winters with snow often settling on the peak of Mount Vesuvius.
Summer comes to Naples from June to August and you can expect long queues, high rates, and massive crowds. This is peak season and you can expect Amalfi Coast, Positano, and Sorrento to be packed as people head to the beaches to cool down. 
The autumn months from September to November is one of the best times to visit Naples. You can expect discounted rates on hotels, pleasant weather, and less crowd at most tourist sites. Rain may be a damper, so bring always carry an umbrella.
Winter falls from December to February and is considered a low season. While the summer crowds have gone, the weather can be an issue as there may be frequent rain. You can get the Christmassy vibes while bargaining for trinkets at Christmas Alley.
The spring months of March to May is the other best time to visit Naples. This time is perfect for the outdoors and touring the city as the weather is warm and dry. As the summer crowds have not arrived, you do not have to rub shoulders or elbows just to get a good photo.
How much spending money do I need for Naples?
Before planning for 2 days in Naples trip, here are some costs which could impact your spending when in Naples. The average daily cost, per person per day, is €103 ($116) which amounts to €722 ($814) for one week.
The cost for a couple for one month is €6,190 ($6,978) with a typical double-occupancy room costing €105 ($118) on average.
How much spending money you need in Naples would depend on you. Always ensure your credit card accepts international payments and has not exceeded its limit. There are automated teller machines at metro stations.
You can also change your money at banks and post offices or at a cambio which is a currency exchange bureau. These bureaus may have higher commissions than at banks and post offices.
What is the safest area to stay-in in Naples?
Being the third-largest city in Italy with a population, finding the perfect place to stay can be challenging. Our guide does the guesswork for you. Here are our choices for the safest areas to stay in Naples for 2 days in Naples trip.
Chiaia For Families
The first choice for our 2 days in Naples was Chiaia. This is one of the wealthiest districts in Naples and is bounded by Piazza Vittoria on its east and Mergellina on its west.
This seafront neighborhood's prominent landmark is its Villa Communale which was built by King Ferdinand IV. The villa was originally a Royal Garden that was exclusively for the members of the royal family. The park was opened to be public, permanently in 1869 after the unification of Italy. 
Among the other places to visit here is the Anton Dohrn Aquarium, visit Villa Pignatelli, or spend the day at Mapatella Beach. For children, I'm sure they would love the Museum of Carriages. And, here are our choices on the best places to stay in Chiaia for you and your family.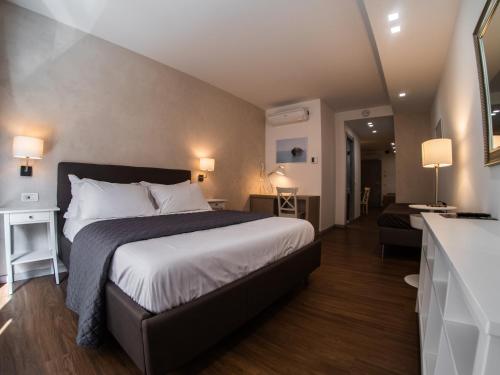 The rooms at Prestige Rooms are air-conditioned, fitted with free WiFi, and a hairdryer. Kids would love that this hotel is located in an area popular for cycling. The hotel is near tourist attractions such as Ovo Castle, Galleria Barbonica, and Via Chiaia.
Previous guest reviews include great location, clean rooms, delicious breakfast, and helpful staff. Guests also commented that the staff is informative and the hotel has easy access to Naples Metro and several good restaurants within walking distance from the hotel.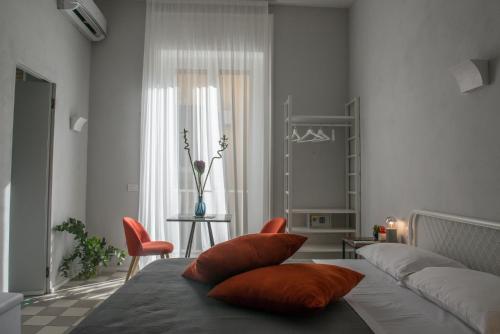 The Medusa Chiaia 164 offers 164 air-conditioned rooms with free Wifi, a flat-screen television, and seating areas in all rooms. For breakfast, you have a choice of buffet or an American-style breakfast.
Some sights near this hotel are the San Carlo Theatre, Galleria Barbonica, and Piazza Plebiscito. The excellent reviews of this hotel include clean and comfortable rooms, a perfect location, and is an easy 5-minute walk to the beach.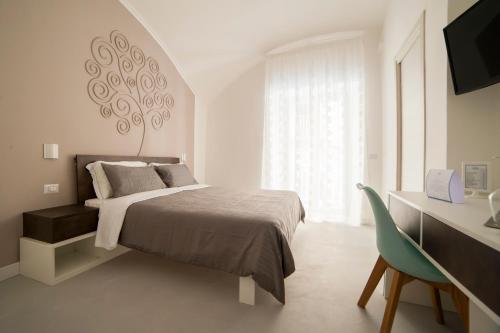 With only 4 rooms, Dada Suite is all about exclusivity. All rooms are equipped with a hairdryer, free toiletries, a safe, and an electric kettle. Breakfast is at a cafe about 120 meters from the hotel.
Some reviews of the hotel include welcoming staff, clean rooms, and a central location. Other reviews mention that this bed and breakfast is close to dining, shopping, and sightseeing places in the area.
Naples Historical Centre For First-Timers
Our second choice for a place to stay for 2 days in Naples is at the Historical Centre. The Naples Historical Centre is approximately 1021 hectares with includes buildings that bear witness to the city's historical and artistic evolution, spread over 27 centuries. This makes it an ideal place for first-timers.
Below are our favorite places to stay in Naples Historical Centre.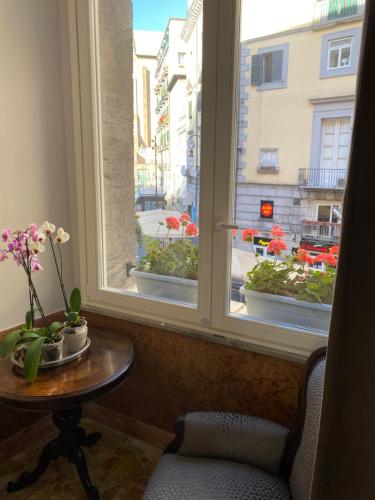 The Dimora Donna Elena takes stunning to the next level. This bed and breakfast was named after an elegant lady, Donna Elena who lived in these apartments for more than 60 years.
While all furnishings are original pieces, this place underwent extensive refurbishment to restore the building to its former glory. The chandeliers, walnut doors, mirrors, and marble floors were painstakingly restored.
Not forgetting its modern atmosphere, each room comes with private bathrooms, free WiFi, a minibar, a safe, an electric kettle, and a smart television with access to Netflix and Amazon Prime.
Some positive reviews mention that the rooms are beautiful and spacious, excellent location, and helpful hosts who were always ready to help and provide useful tips.
The Grey prides itself as a luxury guest house with only 6 rooms, this means exclusivity and personalized services for all guests that stay here. All rooms come with a minibar, a safety box, a kettle, private bathrooms, and flat-screen television.
The reviews mention that the coffee here was excellent while the rooms are clean, stylish, and comfortable. This boutique hotel is close to the Museo Capella Sansevero, San Carlo Theatre, and is about 1 mile to the Royal Palace of Naples and Piazza del Plebiscito.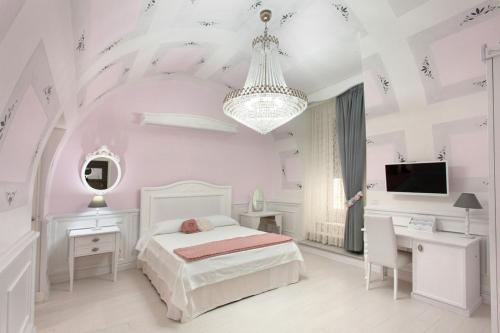 The Domus Rosa Bed and Breakfast is centrally located in Naples and is an easy 10-minute walk to the Dante Metro Station. All rooms are equipped with air-conditioning, television, and minibar.
Some positive reviews include big, beautiful, and comfortable rooms while other guests mention that the hosts were super nice and helpful. This is a pet-friendly bed and breakfast and the staff is all conversant in English. 
Vomero for the Nightlife
Our third and last choice for a place to stay in 2 days in Naples was Vomero. This bustling hilltop city is known for three things. Firstly, its prominent location overlooks Mount Vesuvius, the Bay of Naples, and the Tyrrhenian Sea.
Secondly, the ancient Petraio is the earliest known path that connects uptown and downtown Naples. And, finally, the three funiculars that connect to its downtown historic district. This area also has an active pedestrian zone which limits vehicle entry. 
The notable sights in Vomero include Castle Sant' Elmo, Villa Floridiana, Certosa di San Martino, and the Vomero Market. Below are our favorite places to stay when in Vomero.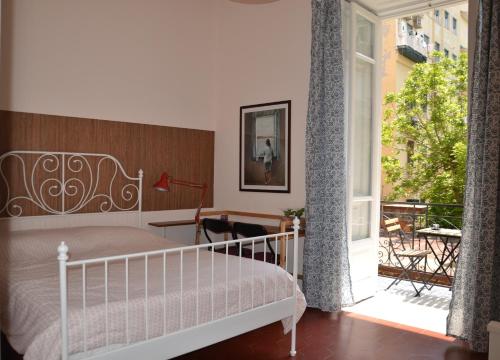 Casa Arcoiris is an apartment that can easily fit 7 people. The apartment features a bathroom, hairdryer, and a kitchen with a dishwasher and oven. Casa Arcoiris is described as bright and well-furnished. 
There is an elevator, although you would need to climb 10 steps to get to it. Some positive reviews include this is a big apartment that is close to shops and supermarket in a nice area of Vomero. Other reviews mention that the host is helpful and friendly.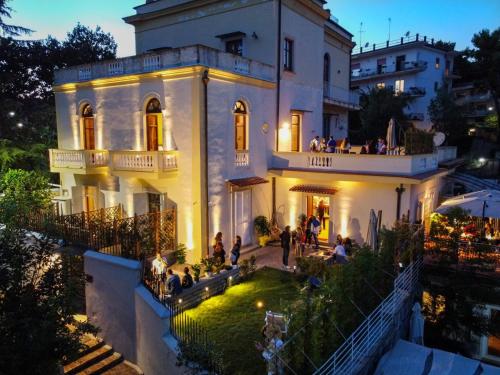 The Relais Villa Montedonzelli is a bed and breakfast that features a terrace, a garden, and a spa and wellness center. All rooms come with a private bathroom, hairdryer, free toiletries, and extra-long beds.
Some positive reviews about this property are that the staff are welcoming, friendly, helpful, and the hotel is clean and cozy. Other reviews mention that breakfast is prepared fresh every morning and it is in a quiet residential area about 20-minutes from the city center.
Gentile Relais is a luxury bed and breakfast where all rooms are equipped with a minibar, air-conditioning, free WiFi, and a safety deposit box. This bed and breakfast is on the first floor of a historic building. 
Guests have the option to have their breakfasts in their rooms while some rooms come with balconies that overlook Via Bernini, Via Solimena, and rooms without balconies that overlook the courtyard.
Some positive reviews include friendly host, its central location, and clean and comfortable rooms. This bed and breakfast is close to both the metro and funicular stations.
Frequently Asked Questions (FAQs) on Naples
These are additional questions that you may have about Naples. 
Is Naples rough?
With a huge mafia presence, Naples is a rough and tough city. The city is chaotic, dirty, and dangerous. This begs the question, is visiting Naples necessary, or should I skip it altogether?
With massive trash issues, graffiti all over the place, and a strong mafia presence, Naples is as authentic as you can get. There are no pretenses here. While tourists may be targeted for petty thefts and pickpocketing, which is a problem in every major city that I have been to.
Hence, use your common sense and trust your gut instincts. It is this roughness that makes this city worth visiting. From the beautiful Bay of Naples to the many historical landmarks, you would not regret spending a few days here.
Do they speak English in Naples, Italy?
While you may find English-speaking residents in Rome and Milan, it is not the case for Naples. As in any southern Italian city, English is not widely spoken which is why it would be best to learn some basic Italian phrases to ease communication.
Some basic Italian phrases are Buongiorno for "hello" and "good morning", Buonosera for a "good afternoon", and Buonanotte for a "good night". "Thank you" is Grazie while mi scusi is "excuse me". 
Other useful phrases are Non capisco for "I don't understand" and if you are a vegetarian, you can say sono vegetariano. If you want to ask "what do you recommend?", it is che cosa mi consiglia?.   
Where should I not stay in Naples?
According to Numbeo Current Crime Index, Naples is ranked 9th with a high crime rate and tourists have to be aware of not displaying their luxurious items openly, always keep an eye on your personal belongings, and not leave them unattended. 
That being said, there are several neighborhoods which to avoid in Naples while you spend your 2 days in Naples. These neighborhoods are:
La Scampia. This district is north of Naples city center and is known as the largest drug area in Europe. It is home to the Italian mafia where they traffic cocaine and heroin to international networks. 
Quartieri Spagnoli. These Spanish Quarters are one of the poorest neighborhoods in the city. Although it is famous as being a budget-conscious area, tourists have to be extra careful when night falls as the mafias are present here as well.
Centro Direzionale. This area is a business center by day. By night, the area is known for its many theft and robberies. 
Rione Traiano. This district is famous for drug trafficking and consists mostly of public housing. 
Forcella. This area is also known to be under the influence of mafias. Hence, best to avoid staying here.
As always, use your judgment and always trust your gut feelings, regardless of which area of Naples you are staying at. 
Why is Napoli culturally significant?
Napoli or Naples is culturally significant as its historic city is the largest UNESCO World Heritage Site in Europe. Naples was also the center of transformation between Greek to Roman cultures.
Its diverse architectural style adds to its cultural significance. It is in Naples that you can find Medieval, Renaissance, and Baroque-style among its castles, palaces, and churches.
Is Naples worth visiting?
So, is 2 days in Naples worth it? In our opinion, it's a yes! Here's why?
Pizza. Yes, our favorite food was born in Naples. The pizza we know today was born from the kitchens of the city's earliest emigrants. Today, the Associazione Verace Pizza Napoletana ensures that Neopolitan pizzas are produced according to the old Neopolitan tradition and customs.
Archaeological Sites. From the ruins of Pompeii to the palaces of the Kingdom of Italy, Naples doesn't disappoint when it comes to ancient historical sites.
Dark tourism. The Catacombs of San Gaudioso and San Gennaro lie below Naples's busiest district. These are where the poorer residents of ancient Naples were buried. Head to Fontanelle Cemetery where thousands of anonymous plague victims were buried. 
Diverse architecture. From landscaped gardens to centerpiece fountains, the architecture here is as diverse as its ancient foreign influences. Look out for Medieval, Renaissance, and Baroque styles all over the city.
Beautiful islands and coasts. A day trip to Capri, Ischia and Procida are all within reach from Naples. Amalfi Coast and Sorento are also nearby. 
Another reason why we love Naples is that it has a sense of authenticity to it. Unlike Rome and Milan which are packed with tourists, Naples was less touristy.