The "land of beautiful horses", this is Cappadocia. When we think of Cappadocia, our first thought is of hot air ballooning at sunrise. There is more to Cappadocia. And, we show you how in our 2 days in Cappadocia itinerary. 
The highlights of our trip were:
Hot air ballooning at sunrise
Goreme Valley
Devrent Valley
Uchisar Castle
Gumusler Monastery
Kaymakli Underground City
Do you know that some of these are hidden gems in Cappadocia? Do you which ones? 
You would have to read on to find out.
Let's dive in.
Disclaimer: Some of the links here are my affiliate links and I may earn if you click on them, at no extra cost to you. Please read my Disclaimer Policy for more information. I hope you find the information here helpful! Thank you!
Where is Cappadocia?
With many cultural, historical, and geological features, Cappadocia has built a reputation as a must-visit destination in Turkey. Watch the hot air balloons rise over fairy chimneys while sipping a cup of Turkish coffee and enjoying Turkish delights, sounds relaxing, isn't it?
Cappadocia lies in eastern Anatolia that is characterized by high plateaus, volcanic peaks, and minaret-like pillars of the fairy chimneys. Due to its high altitude and inland location, Cappadocia has hot and dry summers with cold and snowy winters.
While Goreme is the hub for tourism in Cappadocia, the other cities that are popular with tourists include Nevsehir, Kayseri, Aksaray, and Nigde. The best underground cities to visit are Kaymakli and Derinkuyu. 
The best way to get around Cappadocia is to hire a private vehicle as public transportation may require switching of vehicles and is time-consuming. Taxis are expensive and are a good option if you are just making a quick trip from one place to another.
History
During the late Bronze Age, Cappadocia was known as Hatti and was home to the Hittites, a group of Anatolian people who established an empire centered at Hattusa. When the Hittite Empire fell, Cappadocia was ruled by the feudal aristocracy and became part of the Achaemenid Empire.
After the fall of the Persian Empire, Alexander the Great tried to rule the area, but he was unsuccessful. By that time, according to Herodotus, Cappadocia had expanded and occupied a region of Mount Taurus to the Black Sea.
The Kingdom of Cappadocia ruled Cappadocia until the Romans decided to make Cappadocia a province of the Roman Empire. After that, Cappadocia was ruled by a succession of Byzantines, Seljuks, Karamanids, and the Ottoman Empire. 
The new Republican Parliament created the Republic of Turkey in 1922 after overthrowing Sultan Mehmet VI Vahdettin. Mustafa Kemal Ataturk is regarded as the founding father of modern Turkey.
It was under his leadership that Turkey experienced rigorous economical, political, and cultural reforms intended to turn Turkey into a secular and progressive nation. According to World Bank, Turkey's economy grew by 11% in 2021, making it one of the fastest among G20 countries.
Visa Requirements
Most foreigners are required to have a visa before entering Turkey. However, citizens of Germany, Belgium, France, Georgia, Spain, the Netherlands, Switzerland, Greece, Portugal, and Malta can enter Turkey using their national identification cards.
Before applying for a visa, please ensure that you have at least 6 months of validity. Citizens of Australia, Belgium, Bolivia, Brazil, Denmark, Croatia, and Finland are exempted from visas for up to 90 days. 
To determine if you require a visa, you can check your requirements on iVisa.
Related Posts:
Are 2 days enough in Cappadocia?
On day 1 of our 2 days in Cappadocia itinerary, we spend time with nature as we explored Goreme Valley, Devrent Valley, Uchisar Castle, and Lake Tuz. Our first agenda of the day, one which we recommend doing is the hot air ballooning at sunrise.
Day 1: A Day With Nature
Hot Air Balloon At Sunrise
The first of our 2 days in Cappadocia itinerary is the hot air ballooning at sunrise. This is a must-do when in Cappadocia. While the price of the ride varies based on the season, it is good to know that summer is peak season and you could end up paying more.
Winter is the cheapest season and lets you experience this ride, without the crowds. Due to fog, rain, mist, and snow, the winter season experiences the most flight cancellations. 
Is hot air ballooning safe in Turkey?
Yes, hot air ballooning is safe in Turkey. This is because the hot air balloons are regulated and only licensed pilots are allowed to fly these balloons. While safety has been increased, there are still risks and accidents can happen.
How long is the hot air balloon ride in Cappadocia?
The hot air balloon ride in Cappadocia is an hour. This is just the flight time and does not include additional time required during registration, hotel pick-up and drop-off, and refreshments. We recommend booking the Sunrise Hot Air Balloon Flight. 
Goreme Valley
The second of our 2 days in Cappadocia itinerary is Goreme Valley. This valley is all about ancient settlements, rock-cut cave homes, and surreal landscapes. The Goreme National Park and Rock Sites are a UNESCO World Heritage Site.
The valley is characterized by plateaus, and hills, and dissected by streams and rivers. What is amazing here is how the people have lived in underground cave structures throughout the park's history.
Which district is Goreme in?
Goreme is in Nevsehir Province. This province includes Cappadocia in which the fairy chimneys, Uchisar Castle, and the old churches of the Byzantine era are located.
Where can I watch the hot air balloons in Goreme?
Some of the best spots to watch the hot air balloons in Goreme are Sunset Point, Mithra Cave Hotel, Sultan Cave Suites, the Red Valley Panoramic Viewpoint, the Esentepe Panoramic Viewpoint, and Love Valley.
Is Goreme worth visiting?
Yes, Goreme is worth visiting because you can enjoy unique experiences such as the hot air balloon ride over Cappadocia, trek on one of the beautiful hikes across Goreme, and stay in one of the best cave hotels with views of the hot air balloons.
Devrent Valley
The third of our 2 days in Cappadocia itinerary is Devrent Valley. This valley is about 8-miles or a 20-minute drive from Goreme Valley. Imaginary Valley is the place to let your imagination run wild.
With fairy chimneys dominating the landscape, make sure to stop by the camel-shaped fairy chimney. From animal-shaped rocks to the rock of what looks like the praying Virgin Mary, spending a day here is easy.
Interestingly, there is no human settlement in this area. The rocks were formed from an ancient lava flow that eroded over time, resulting in these beautiful rocks of different shapes and sizes. There is no entrance fee to enter Devrent Valley. 
Uchisar Castle
The fourth of our 2 days in Cappadocia itinerary is Uchisar Castle. This castle is about 12-miles or a 20-minute drive from Devrent Valley. Although the castle originally housed about 1,000 people, it is no longer inhabited.
The castle is at the highest point in Cappadocia and to get to the top, be prepared for a strenuous walk. However, the panoramic views are worth the hike up. The fairy chimneys on the west of the castle were once graves used by the Romans.
How much is the entrance fee to Uchisar Castle?
The entrance fee to Uchisar Castle is ₺8 ($0.50). 
Can you go inside Uchisar Castle?
Yes, you can go inside Uchisar Castle. However, there isn't much to see as the rooms on the north side are used as homes for the pigeons, and those on the west, east, and north were used as Roman graves.
Lake Tuz
The fifth of our 2 days in Cappadocia itinerary is Lake Tuz. This is the largest lake in Turkey and one of the largest salt lakes in the world. The lake at the central plateau occupies a tectonic depression and is fed by freshwater and groundwater with no outlets.
Although it was reported that the lake dried up in 2021 due to climate change, a season of rainfall and snow brought relief as flamingos thrive in Lake Tuz. These migratory birds come to Lake Tuz to breed, hatch and care for the young before migrating to other nations.
How do I get from Cappadocia to Lake Tuz?
The best way to get to Lake Tuz from Cappadocia is to join the Salt Lake, Underground City, and Caravanserai Tour which is a private tour that comes with a guide, hotel pick-up, and drop-off, and a visit to the Tepsidelikhan Caravanserai.
Day 2: Other Must-Visits
On Day 2 of our 2 days in Cappadocia itinerary, we stopped by the lesser-known hidden gems in Cappadocia. We begin the day with Sultan Han Caravanserai and ended our day with a trip to the Kaymakli Underground City. 
Sultan Han Caravanserai
The sixth of our 2 days in Cappadocia itinerary is the Sultan Han Caravanserai or Sultanhani. According to the inscription, this caravanserai was built in 1229 by Sultan Kayqubad I and was used during the winters and summers.
This caravanserai was an important stopover along the Silk Road that crossed the Anatolian regions. Although the original building was destroyed in a fire in 1278, the caravanserai was rebuilt, renovated, and extended.
A stop here is worth your time as you admire the monumental entrance that is made entirely from marble. Not only is this the largest caravanserai in Turkey, but it is also the best-preserved with Seljuk architecture.
Ihlara Valley
The seventh of our 2 days in Cappadocia itinerary is Ihlara Valley. This valley is about 52-miles or an hour's drive from Sultan Han Caravanserai. The valley once served as the base for Christianity during the 3rd and 4th centuries.
However, what attracts tourists to this area is the scenic beauty of this valley. Walk down the 360 steps and make the 6-hour hike to Belisirma to see the Carved Stone Church which is in poor condition. 
See also the Fragrant Church which has frescoes on the New Testament, the Dark Castle Church which is a monastery with minimum decorations, and the Hyacinth Church which is in good condition. 
Look out for the Snake Church which has a fresco of a three-headed snake that is torturing sinners, and finally, the Church Beneath A Tree which is a domed church with abstract decorations. 
What to do in Ihlara Valley?
The things you can do in Ihlara Valley include taking a nature walk through the valley, visiting the ancient cave churches, mountain biking through the valley, and hiking to the famous Selime Monastery that was once home to monks in the 13th century.
Is Ihlara Valley a canyon?
Yes, Ihlara Valley is a canyon that was formed during prehistoric times from the volcanic activity of Mount Hasan and the erosion of the Melendiz River.
How long is Ihlara Valley?
Ihlara Valley is 15 kilometers long and about 150 meters deep and is located in the southwest region of Cappadocia. 
Gumusler Monastery
The eighth of our 2 days in Cappadocia itinerary is Gumusler Monastery. This monastery is about 40-miles or an hour's drive from Ihlara Valley. This monastery was carved out of a large rock and is Turkey's largest and best-preserved cave monastery.
The Smiling Virgin Mary fresco attracts both local and domestic tourists here. Another highlight here is the freestanding closed aisle that is based on the Greek Cross plan. Take your time exploring the courtyards, rock-cut dwellings, kitchens, and crypts. Or descend through the chambers that lead to two subterranean rooms. 
Three Beauties
The ninth of our 2 days in Cappadocia itinerary is the Three Beauties. The Three Beauties or the Three Graces Fairy Chimneys are three black-capped rock formations that overlook the countryside. According to local legends, a beautiful fairy princess fell in love with a shepherd from Cappadocia.
Despite many obstacles, the couple got married and had a child. When the fairy sultan received this news, he became angry. He sent his army to find them. When the princess saw the soldiers, she prayed that she would not separate from her family. Her prayers were answered and they were turned into these chimneys and remained together forever.
Kaymakli Underground City
The tenth of our 2 days in Cappadocia itinerary is Kaymakli Underground City. This underground city was once known as Enegup. Kaymakli is about 19 miles or a 30-minute drive from the Three Beauties.
This underground city was expanded during the Byzantine era and was used as shelter during the Arab raids. In the 14th century, these caves were used by the Christians as shelter from the Mongolian incursion of Timur.
Some of the tunnels are still used today, mostly as storage, stables, and cellars. As the tunnels are low, narrow, and steep, only four floors are open to tourists.
What is the oldest underground city?
The oldest underground city in Turkey is the Derinkuyu Underground City. The earliest written record of the city was found in a text written by Xenophon of Athens who described how the people of Anatolia had carved their homes in underground dwellings.
How much is the entry fee to Kaymakli Underground City?
The entry fee for Kaymakli Underground City is ₺60 ($3.60) for adults. Children below the age of 8 years, enter for free. 
How old is Kaymakli Underground City?
Kaymakli Underground City is 2,721 years old as it was first built during the 7th century BC. 
OPTIONAL: Mount Erciyes
The eleventh and last of our 2 days in Cappadocia itinerary is Mount Erciyes or Argaeus a stratovolcano in the Kayseri Province. At a height of 12,848 feet, it is the fifth tallest volcano in Turkey.
The volcano was formed about 900,000 years ago in two phases with the southern slope forming about 1.7 million years ago followed by lava flows on the western flank. The eastern flank has lava flows that have been carbon-dated to between 4.4 to 2.9 million years ago.
Is Mount Erciyes active?
No, Mount Erciyes is not active. Its last known eruption was about 7,000 years ago. While the volcano was glaciated during the Pleistocene era, there has not been any recent volcanic activity.
What to do in Erciyes?
During the winter months, Mount Erciyes is a popular ski resort with 34 miles of slopes and 14 elevators available to transport guests. During the summer months, the area is popular with rock and mountain climbers.
The first person to reach the peak of Mount Erciyes was W.J. Hamilton in 1837 and Miralay Cemil Cahit Bey was the first Turkish to reach the peak in 1924. 
What are the best places to stay in Cappadocia?
With its unique landscape, peculiar rock formations, and history that goes back to the 7th century, this area is not only large, it is magical. With so many cave hotels to choose from, it can be tough to decide which is the best. 
This is why we have curated our best choices for you. Although similar, each hotel is different in its ways. Why not book that stay in the magical place called Cappadocia?
The AJWA Cappadocia is a 98-room hotel located in the heart of Cappadocia. The designer rooms are spread across three buildings, the "Sakura", "Kervansaray", and "Sanat Carsisi". The most luxurious room is its cave suite.
The beauty of this hotel is that all rooms come with handmade furniture with mother of pearl inlay, handwoven carpets, and handmade decorative items that adorn the walls. The modern amenities include a flat-screen television, minibar, and espresso machine are standard across all rooms.
Some positive reviews mention that the staff is excellent, spacious rooms with gorgeous grounds. The hotel is perfect for relaxing and there is plenty for kids to do within the premises. 
Others also mention that although breakfast is good, the choices are limited to Turkish and Azerbaijani cuisine. Guests also mention that, although the property is quiet and secluded, it is far from the city.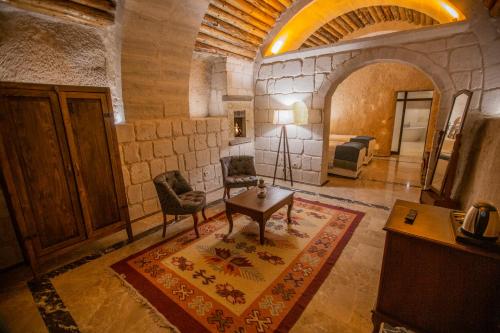 The Lavender Cave Hotel is a 26-room hotel in Nevsehir. The hotel has free WiFi throughout the property, a shared lounge, and a currency exchange service for guests. All rooms come with a safety deposit box, private bathroom, towels, and premium bedding with beautiful mountain views.
Some positive reviews mention excellent service from staff, the good ventilation of the rooms, and clean, spacious rooms. Transportation may be an issue as the hotel is far away from the city center.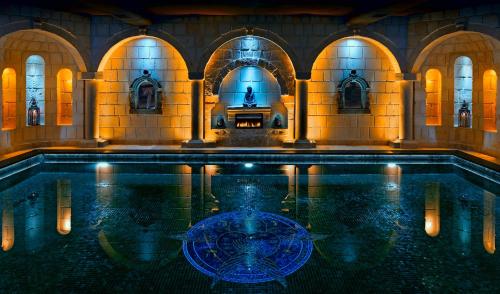 The Seraphim Cave Hotel is a 21-room hotel and is a historic mansion built in 1853 that combines history and modernity in one place. All rooms come with a safety deposit box, free WiFi, a flat-screen television, private bathrooms, bathrobes, and towels.
Some positive reviews mention the friendly and helpful staff, the delicious and amazing breakfast as well as the beautiful surroundings of the hotel. Guests also loved the clean rooms, the large gardens, and the excellent spa and swimming pool facilities.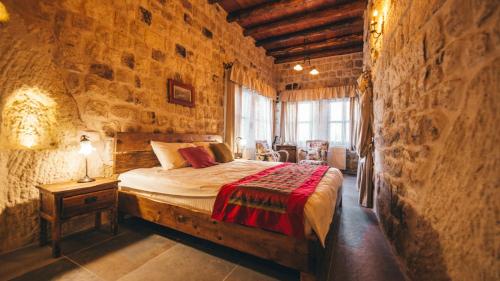 The Cappadocia Old Houses is an 8-room hotel that reflects the architectural style of Urgup. All rooms come with a safety deposit box, free WiFi, a wardrobe, a flat-screen television, a private bathroom, and towels.
A positive review mentions that the hotel has a picturesque view, stable and fast WiFi, well-heated rooms, and a delicious breakfast.  Guests also loved the quiet and peaceful environment of the hotel.
The Casia Cave Suites are a 7-room hotel that was once a mansion. The hotel has a 24-hour front desk, free WiFi in all rooms, and express check-in and check-out services. Among the activities available for guests include horseback riding and cycling.
Guests loved the clean rooms, the nice and friendly staff as well as the view of the valley from the terrace where breakfast is served daily. Other reviews mention the hotel's location which is close to Uchisar Castle.
Frequently Asked Questions (FAQs) on Cappadocia
These are some other questions that may be useful to plan your 2 days in Cappadocia itinerary. We hope you find this information useful and helpful!
What is Cappadocia known for?
The one thing that Cappadocia is known for is the hot air ballooning at sunrise over its distinctive rock formations. Cappadocia is also known for its unique cave dwellings and the rock-cut churches that have existed since Medieval times. 
What is the best month to go to Cappadocia?
The summer months of July to August are the best months to go to Cappadocia. These months are also the busiest as it is peak season. The other best times to visit Cappadocia are during the spring months of April to May and during the autumn months of September to October.
During these months, you can expect pleasant temperatures, flowers in full bloom in spring, and colored trees in autumn. In autumn, the sunsets at Red and Rose Valleys are mesmerizing and while evenings can be chilly, the weather is still pleasant.
The winter months of November to January bring snowfall to Cappadocia with January being the coldest month. Hot air ballooning may not be possible as the weather becomes wet and windy. You can expect fewer crowds on hiking trails and accommodation may be cheaper. 
How far is Cappadocia from Istanbul?
Cappadocia is 472 miles from Istanbul by road via 0-4 and Ankara – Niğde Otoyolu/Ankara – Tarsus Otoyolu/O-21. 
How do you say hello in Turkish?
"Hello" in Turkish is Merhaba. An informal greeting among friends would be salam. This is always followed by Nasılsınız? which translates to "How are you doing?". The answer to that question would be İyiyim, teşekkürler which means "I am good. Thanks". 
What are some common Turkish phrases?
Some common Turkish phrases which you could use during your 2 days in Cappadocia itinerary trip are Günaydın for "good morning" and İyi akşamlar for "good evening". And, Yolunuz açık olsun means "have a good trip".
What language do they speak in Turkey?
The language they speak in Turkey is Turkish which is also the official language of the nation. The minority languages spoken are Kurdish and Zazaki which are spoken by about 15% of the population.
Do you tip waiters in Turkey?
Yes, you do tip waiters in Tukey. Tips are to be given directly to the waiters in Turkish Lira. However, you only tip if the food and service rendered are good. If you feel that the service has not met your expectations, you do not have to leave a tip. For restaurants, the rate is 5 to 10% of the total bill. For an upmarket restaurant, the tip rates are 10 to 15% of the total bill.
Is Cappadocia worth visiting?
Yes, Cappadocia is worth visiting. Here's why we think a trip to Cappadocia is worth your time and stay.
Stay in a cave hotel. Yes, you read that right. This unique accommodation is built into existing rock formations. Once you step in, you feel as if you have been transported back to medieval times. 
Picturesque landscape. The landscape here will take your breath away. With its rugged landscape of rocks and caves, you might just be clicking your camera at every sight. Cappadocia is also the place to be for fun outdoor activities.
History and Culture. With a history that dates to the 6th century, the culture at Cappadocia is unlike other places you have been to. From Roman ruins to underground cities, there are plenty of archaeological sites for the history buff.
Sit back, relax, and enjoy. Whether you are enjoying the beautiful landscape, a trip here is perfect to spend time with your significant other. And, what better way to enjoy it than with Turkish coffee.
Shopping. From ceramics to miniature handicrafts, shopping in Cappadocia is a must. Check out Goreme for ceramics, carpets, and arts & crafts. Head to Kayseri for fabrics and textiles. And, get your wine and jewelry fix at Uchisar. 
What is most beautiful about Cappadocia is its people. Although the city is safe, it is advisable to not stay out too late and to always take precautions. If you haven't visited Cappadocia, visit here, at least once in your lifetime, you will not regret it.