How do you spend 1 day in Cebu?
The Queen City of the South, Cebu Island is a province in the Central Visayas region. Cebu City was the first capital and is the oldest city in the Philippines.
Cebu has a tropical climate with two seasons, the dry and wet seasons. The island has white sandy beaches, and historical landmarks, the city is a center for tourism.
Here, the beaches contrast against the rolling green hills and rugged mountain ranges. Cebu Island is the 126th largest island in the world and is the 9th largest island in the Philippines.
This is why we have added two-day trips that you can do if you are planning a more extended trip to Cebu.
Want to know more? Let's dive in!
Disclaimer: This post contains my affiliate links which may earn me a commission if you click on them, at no extra cost to you. Thank you for reading and supporting my blog!
To get to Cebu, book your cheapest flights to the island with cashback on your flight ticket. Now, isn't that great?
Stay connected on your travels to Cebu with an eSIM Data Plan that is activated via a QR Code. Choose from a variety of data packages, validity options, and coverage in the Philippines. 
After arriving at Mactan-Cebu International Airport, take the stress of finding transportation to your accommodation by booking a private one-way transfer to your accommodation in Cebu City, Lapu-Lapu City, and Mandaue City. 
For solo travelers, Cebu has some fabulous hostels that are clean, have excellent locations, and with helpful and superb staff. 
Where is Cebu?
Cebu is on the east of Negros, west of Leyte and Bohol. And, it includes 167 smaller islands such as Mactan, Bantayan, and Malapascua.
Cebu Island is long and narrow with flat tracts of land scattered throughout the island. The island has a tropical climate with two seasons.
Cebu is the gateway to Central and Southern Philippines. This makes tourism, the island's largest economic contributor. Cebu's shipbuilding makes the Philippines the 5th largest shipbuilder in the world. 
The tourism industry in Cebu is thriving as it is at the forefront of sustainable tourism in the Philippines. For history lovers, there are plenty of historical sites whilst the adventurous can hike to the beautiful waterfalls, scuba dive, or canyoneering at Kawasan Falls.
History
According to local legends, the earliest known settler in the Visayas was Sri Lumay, who was a half-Malay and half-Tamil prince from the Chola Dynasty. Although he was sent from India, he rebelled and created his independent state with the capital being Singhapala.
Ferdinand Magellan who was on his exploration journey around the world landed in Cebu and met Rajah Humabon, the grandson of Sri Lumay. During Rajah Humabon's reign, Cebu was already an economic powerhouse and an important trading center.
After the Treaty of Cebu was formalized, the colony grew with the arrival of 1,200 soldiers from Mexico. The colony was fortified by Fort San Pedro. By 1569, the Spanish settlement in Cebu was a safe port for ships from Mexico.
Cebu and the rest of the Philippines were handed over to the United States at the end of the Spanish-American War, after the signing of the Treaty of Paris with 40 marines landing on the shores of Cebu.
During World War 2, Cebu was occupied by the Japanese with the city being liberated at the end of the war. During the war, Cebu City was razed to the ground. However, reconstruction was fast with Colon Street becoming the center of Downtown Cebu.
Although the city is safe to visit, the risk of pickpocketing is high. Always use common sense and be aware of your surroundings and belongings at all times. The city is prone to natural disasters of earthquakes, typhoons, and volcanic eruptions.
Visa Requirements
Citizens from the United States, the United Kingdom, Australia, Singapore, Malaysia, and Thailand have visa-free entry to the Philippines so long as they are traveling for tourism or business.
Travelers also need to show a return ticket and have a valid passport for at least 6 months. To determine if you need a visa to the Philippines, you can check your eligibility on the Philippine Visa Application portal. 
Or, you could apply for a visa to the Philippines through iVisa which has a traveler-friendly visa application process. The process is completed in 3 easy steps with all applications being vetted by a team of immigration experts.
How do you get around Cebu?
As Cebu is one of the most developed provinces, getting around the island is fairly easy. However, purchase the 4G Portable WiFi which is highly recommended as you can access the internet while traveling. 
Airport transfer
The easiest way to get from the airport to Cebu city is via a private one-way transfer where you can enjoy the privacy and comfort of a private ride. With a meet-and-greet service upon your arrival, you can be assured that you are in the hands of an experienced local driver. 
Jeepney
While Jeepneys are the most popular mode of transportation, it is neither the safest nor the most comfortable. Jeepneys are modified military jeeps which were modified for passengers. These jeepneys ply specific routes and when full, passengers sit knee to knee.
Theft and pickpocketing are common among unassuming tourists who may get a local experience. Jeepneys are available throughout the day and a ride within Cebu City should not cost you more than ₱10 ($0.20) per person.
Taxi
Taxis are the most convenient for tourists as they can be hailed from anywhere. To be on the safe side, ensure that the driver uses the meter. The flag-down rate is ₱40 ($0.80) with an additional ₱13.50 ($0.25) for every succeeding kilometer and ₱2 ($0.02) for every two minutes.
Rideshare
There are 4 rideshare applications that you must have on your phone before going to Cebu. These are Grab Taxi, Angkas, Joyride, and MiCab. These rideshares are convenient and hassle-free as it is easier to report dodgy drivers. The downside is that the rides are expensive, especially during peak times.
Tricycle
These are the Philippines' versions of India's famous tuk-tuk. Tricycles are convenient as they go to places where jeepneys and taxis can't get into. These motorcycles can easily accommodate 4 persons. Tricycles are neither comfortable nor quick. However, they can be fun!
Ferries
Ferries were introduced as an additional mode of transportation to ease road congestion. The Topline and Metro Express have routes from Cebu to Lapu-Lapu and vice versa. Their ticket booths are located at Cebu City Pier 3 in Cebu.
Related posts:
What to do with 1 day in Cebu?
In our self-guided walking tour, we explore Cebu City and its main attractions. We have also included two-day trips if you plan on extending your trip to this beautiful island of Cebu. 
Fort San Pedro
The first of our 1 day in Cebu is Fort San Pedro. This fort was built under the command of Miguel Legazpi, the first Captaincy General of the Philippines. While the fort was originally built from wood, a stone fort was built to repel the Muslim invaders.
Fort San Pedro is the oldest triangular bastion fort in the Philippines and has served as an army garrison, a rebel stronghold, and a prison camp. The fort is currently a museum that houses the legacies of the Spanish government, paintings, and sculptures.
The statues you see outside the fort are that of Miguel Legazpi and Antonia Pigafetta who assisted Magellan in translating the Cebuano language. Pigafetta's Dictionary is the first Italian-Malay dictionary that has the earliest record of the Cebuano language.
How much is the entrance fee in Fort San Pedro?
The entrance fee to Fort San Pedro is ₱30 ($0.55) for adults while students pay ₱20 ($0.36) and senior citizens pay ₱24 ($0.44) per person. The fort is open from 8 am to 8 pm every day.
Why should we visit Fort San Pedro?
A trip to Fort San Pedro is worth it as the museum holds several Spanish artifacts, documents, and photos. The area where the fort is located is a historical park and with its greenery, it is a pleasant change from the chaos of the city outside the walls of the fort.
Magellan's Cross
The second of our 1 day in Cebu is Magellan's Cross which is less than a mile from Fort San Pedro. The cross is located in a kiosk on Plaza Sugbo, beside Basilica del Santo Nino. 
The original cross was made from tindaloo wood. To prevent it from being chipped away by people who believed the cross had miraculous powers, the original cross was encased into another wooden cross.
In the pavilion, look up and admire the painting that depicts the baptism of Rajah Humabon and the planting of the cross by Ferdinand Magellan. 
Is there an entrance fee for the Magellan's Cross?
There is no entrance fee to visit the pavilion where Magellan's Cross is located. The pavilion is open from 8 am to 6 pm. The best time to visit is during the weekdays to avoid the large crowds.
Is Magellan's Cross the original?
No, the Magellan's Cross which you see here is a replica planted by the Spaniards after they successfully colonized the Philippines. The original was destroyed as people began to believe in its miraculous powers.  
Minor Basilica of the Holy Child of Cebu
The third of our 1 day in Cebu is the Minor Basilica of the Holy Child of Cebu or the Santo Nino Basilica. This basilica is an easy 1-minute walk from Magellan's Cross. 
The church was built in the exact location where Miguel Legazpi found the image of Santo Nino. Basilica Minore del Santo Nino is the oldest Roman Catholic church in the Philippines and is a National Historical Landmark. 
The basilica houses a museum that houses the relics and statues of different saints, antique church furniture, and old church documents that date back to the 17th century.
Who built Basilica Minore del Santo Nino?
Basilica Minore del Santo Nino was built by Fray Diego de Herrera and Andres de Udaneta who built the original church from wood and nipa. 
The stone foundation for the present church began with Father Provincial Bergaño, Governor-General Fernando Valdes, Bishop Manuel Antonio Decio y Ocampo of Cebu, and Fray Juan de Albarran. 
Why do Filipinos worship Santo Nino?
Filipinos worship Santo Nino as they believe that he has the power to protect and answer their prayers. The Feast of Santo Nino commemorates the holy image of the child Jesus that was gifted by Ferdinand Magellan to Rajah Humanon.
Cebu Metropolitan Cathedral
The fourth of our 1 day in Cebu is the Cebu Metropolitan Cathedral. This cathedral is an easy 3-minute walk from the Santo Nino Basilica. The is one of the first churches in the Philippines dedicated to St Vitalis.
With its Spanish colonial architecture and thick walls to withstand typhoons and other natural calamities. While the original cathedral was made from wood and nipa, frequent interruptions and Moro wars meant that the construction was delayed due to lack of funds.
When you walk inside, marvel at the beautiful Corinthian columns and stained glass windows with the altar furnished in gold.
Why is Cebu Metropolitan Cathedral famous?
The Cebu Metropolitan Cathedral is famous as it is the central seat of Christianity in Cebu. The church is also known for its unique Spanish colonial style.  
Who built the Cebu Metropolitan Cathedral?
The Cebu Metropolitan Cathedral was built by Miguel Lopez de Legazpi, Fray Andrés de Urdaneta, and Fray Diego de Herrera in 1565 and dedicated to St Vitalis.
How much is the entrance fee to Cebu Metropolitan Cathedral?
The entrance fee to Cebu Metropolitan Cathedral is ₱100 ($2) for foreign tourists while it is free for locals.
Temple of Leah
The fifth and last of our 1 day in Cebu is the Temple of Leah. The temple is about 8 miles from Cebu's city center and is Cebu's newest attraction. It is nicknamed the Taj Mahal of the Philippines because of its backstory.
This Roman-inspired shrine is located in Busay. This 7-story mausoleum has a library, an art gallery, and a bar. As you walk in, the two lion statues stand guard as you make your way up the stairs. 
What is the story of the Temple of Leah?
The Temple of Leah was built by Teodorico Adarna for his wife Leah Villa Albino-Adarna as a symbol of devotion and undying love. The museum has all of his wife's favorite items which she owned. 
How much is the entrance fee for the Temple of Leah?
The entrance fee for the Temple of Leah is ₱100 ($2) for adults and ₱50 ($1) for children and senior citizens. There is a parking fee of ₱30 ($0.55) for cars. The temple is open daily from 7 am to 6 pm.
Day Trip: Kawasan Falls
If you have more than 1 day in Cebu, you can make a trip to Kawasan Falls. Kawasan Falls is about 80 miles from Cebu City. These multi-layered falls are a popular spot for canyoneering and cliff jumping.
Kawasan Falls has three levels with the first fall being the largest and most crowded. A 15-minute hike takes you to the second level. Avoid hiking up in the evening as the pathway is not lighted. Hence, bring a flashlight.
Although there are many stalls around the main fall, the food and drink prices are exorbitant. So, it is wise to bring your own food and drinks to last you throughout the day.
Take a full-day trip to Kawasan Falls and Mantayupan Falls or experience a private canyoneering tour that includes transportation from Cebu City. Whatever option you chose, take your time and relax in one of the most beautiful waterfalls in Cebu. 
How much is the entrance fee in Kawasan Falls?
The entrance fee to Kawasan Falls is ₱45 for foreigners and ₱20 for locals. Or, you can book the Badian Canyoneering Admission and Guided Experience for private groups online. 
Day Trip: Monastery of the Holy Eucharist
Another activity worth considering if you have more than 1 day in Cebu is to visit the Monastery of the Holy Eucharist or Simala Shrine. The other names include Our Lady of Lindogon Shrine and the Simala Parish Church.
The church was built by the Marian monks which led to the name the church is on being called Marian Hills. This Roman Catholic pilgrimage site after the image of the Virgin Mary shedding tears. 
There is no entrance fee to enter the shrine. When you are there, take time to walk around the garden which has a replica of Nazareth's Well. The shrine is open daily from 8 am to 8 pm. 
Or, you can join a Cebu City Tour With Simala Shrine and stop by the Taoist Temple in Cebu which is another beautiful place of worship in Cebu.
Which is the best area to stay in Cebu?
The best area to stay in Cebu is, of course, Cebu City. This city is known as the Queen City of the South and is the capital city of Cebu Province. Cebu City is a popular tourist and transportation hub.
Join a deep-sea dive at Maolboal and Pescador Island. Or, join the whale shark swimming and Tumalog Falls Tour. Alternatively, take a private tour to Sumilon Island and end your trip with a hike to Osmena Peak. 
Radisson Blu
Our first choice for 1 day in Cebu is the Radisson Blu which is a 400-room 5-star modern hotel that is minutes away from the Mactan Channel. The main attractions in Cebu are less than 2 miles away from this hotel.
All rooms are designed in a modern contemporary style and come with free WiFi, a work desk, a rain shower, and an in-room safe. While the suites are larger and come with separate living and dining areas, the Business Class Room is ideal for business travelers.
Guests loved the spacious, clean, and comfortable rooms. Guests also loved the friendly staff, excellent breakfast buffet spread, and the convenient location next to the SM City Mall. 
Holiday Inn
Our second choice for 1 day in Cebu is the Holiday Inn which is a 180-room hotel located in the heart of Cebu Business Park. Holiday Inn is a 5-minute walk to Ayala Shopping Center and is close the Cebu's IT Park.
All rooms come with free WiFi, premium bedding, a work desk, and a 24-hour fitness center. The hotel also has an outdoor swimming pool and an all-day dining restaurant with a kid's menu.
Accessible guest rooms with emergency cords and buttons are also available to cater to guests. From handheld showers to grab bars and rooms near the elevator, guests with disabilities are taken care of just the same.
Guests loved the clean and comfortable rooms, the friendly staff, and the excellent buffet spread. Guests also loved that the fitness center was adequately equipped and the hotel was within walking distance of Ayala Mall. 
Citadines Cebu City
The third option for 1 day in Cebu is Citadines Cebu City which has 180 serviced apartments that are strategically located near Cebu Business Park and Cebu IT Park. 
All the apartments are fully furnished with free WiFi, and a fully equipped kitchenette while some apartments have washers and dryers. For added convenience, the gym and swimming pool are located on the recreational floor.
Guests loved the large and clean rooms, the convenient location, and the friendly staff. The comfortable beds and clean facilities were another plus points for travelers who stayed here. 
While the studio rooms and one-bedroom executive rooms have a hotel feel to them, the two-bedroom premier room caters to 4 persons and feels like a home away from home.
Goldberry Suites & Hotel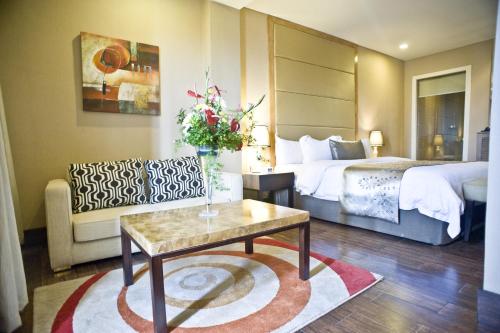 The fourth choice for 1 day in Cebu is the Goldberry Suites & Hotel which is 70-room modern boutique hotel that is about 5-minutes from the international airport. While the hotel does not have a swimming pool, the Bird's Nest Lounge is the perfect place to unwind.
All rooms come with free WiFi, an electronic safety deposit box, a minibar. For your added convenience, a handheld flashlight is provided. In this hotel, no two rooms are the same.
Guests loved the clean rooms, comfortable beds, and quiet rooms. The attentive and friendly staff is also a plus point. Guests also loved the excellent location that is next to Ayala and several restaurants nearby.
Marco Polo Plaza
Our last choice for 1 day in Cebu is the Marco Polo Plaza which is 329-room on Nivel Hills with a panoramic view of Cebu City and Mactan Island. The rooms are well-appointed and come with free WiFi, an in-room safe, a pillow menu, and the usual amenities.
Guests loved the attentive and friendly staff and clean rooms. The amazing views from the rooms is also a plus point of this hotel. Guests also loved the delicious spread available during the buffet breakfast and dinner.
<script src="//tp.media/content?promo_id=2693&shmarker=309880&campaign_id=84&trs=14152&locale=en&hotel_type=&border_radius=5&plain=false&powered_by=true&default_direction=Cebu%20City" charset="utf-8″></script>
Frequently Asked Questions (FAQs) on Cebu
What is Cebu best known for?
Cebu is best known as the Queen City of the South as it is the capital city of Cebu Province in the Central Visayas region. Cebu City is known for its historical landmarks, stunning beaches and marine parks, and has preserved its traditional Spanish culture in daily life.
What language do they speak in Cebu?
The language they speak in Cebu is Cebuano. This language is the common language in Central Visayas, the western parts of Eastern Visayas, the western parts of Palawan, and most parts of Mindanao. 
Do they speak English in Cebu?
Yes, they do speak English in Cebu as English is one of the official languages of the Philippines. Also, the people speak in English to people who do not know the local language. 
How do you say hello in Cebu?
Kumusta means "hello, how are you?" in Cebuano. Other useful Cebuano phrases are maayong buntag for "good morning", amping which means "goodbye", ang akong ngalang si means "my name is …", and salamat means "thank you".
What is the best time to visit Cebu?
The best time to visit Cebu is during the dry season from December to April. While January and February are cool months, the temperature rises from March and April. Typhoon season in the Philippines is from July to August.
Is Cebu safe for female travelers?
Yes, Cebu is safe for solo female travelers. However, it is important to remember to use your common sense and follow your gut instinct.

Avoid walking in dark alleys at night, always walk confidently, and always be aware of your surroundings.

Do not flash your expensive items and jewelry and always stay in brightly lit tourist areas. Most importantly, do not leave your drinks unattended, even for a short while.
What is the coldest month in Cebu?
The coldest month in Cebu is in January with minimum average temperatures of 22.9°C (73.2°F) and maximum average temperatures of 30.1°C (86.2°F). The island has a tropical rainforest climate which means that it is warm, humid, and rainy throughout the year.
Is Cebu safe at night?
Although Cebu is generally safe at night, there are some areas that are best to avoid. These areas are Colon Street which is where pickpockets and street kids hang out, Ermita is known as the haven for pickpockets and drugs while Pasil is a rough neighborhood.

Duljo and Fatima are violent areas as it is a known haven for drug dealers. Mambaling or Alaska is another neighborhood known for drugs.

If you sense that a place doesn't feel right, chances are that your instincts are right. Always get out the moment you feel uncomfortable in any place or situation.
Is Cebu worth visiting?
From white sandy beaches to beautiful waterfalls, Cebu offers for tourists to discover. Whether you are an avid hiker to a scuba diver, Cebu has something for everyone.

Here's why we think you must visit Cebu, at least once in your lifetime. 

1) Friendly and English-speaking locals. You can be assured that there won't be any communication barriers as everyone here speaks English. 
2) Beautiful waterfalls. While Kawasan Falls is touristy, visit Tumalog Falls, Dao Falls, and Bugasok Falls which is a hidden gem next to Agta Cave.
3) Mountains. While Osmena Peak is on the highest mountain in Cebu, head to Casino Peak or the "Chocolate Hills of Southern Cebu" for the most breathtaking views of mounds, and views of Tanon Straits and Badian.
4) Cultural heritage. The city is unique in its devotion to Santo Nino, the Holy Child of Jesus whom the locals believed spared their island from danger because of their faith. Visit and experience the Sinulog which is Cebu's version of Mardi Gras.
5) Street food. The local street food of Cebu is not only cheap, it is also a cultural experience. From lechon to Adidas, make sure you try them when in Cebu.
Whether you are a first-time visitor or a seasoned traveler to Cebu, the island has something for everyone. With diverse landscapes, more than 90 waterfalls, and endless activities, Cebu is the perfect balance between natural beauty and modern charm.
A free-spirited traveler who dreams to conquer the world one country at a time, exploring local vegetarian cuisines and discovering off the beaten path destinations. Yes! That's me.
I've always loved creating itineraries for family and friends. With this website, I help you plan your travels by making it easier.
Our guides are mostly free self-guided walking tours, specifically trips that you can do within a day or two. We will be expanding our itineraries to cater to longer trips in the future.
Thank you for reading my blog.